IV Insertion is a skill that most nurses will need to become familiar with.
Nurses in the hospital use IVs every day to infuse fluids and medications, as well as to draw blood. While IVs are very useful, sometimes IV insertion can be difficult, – especially for the new or inexperienced nurse.
With time and experience, your IV skills will improve. In the meantime, use these 10 IV insertion tips to help you start an IV and sink those IVs like a pro.

IV Insertion: Location, Location, Location!
Cubital Fossa (AC)
The best location of your IV insertion really depends on which setting you are in, as well as the specific patient's chief complaint.
AC lines are when IVs are placed in the Cubital Fossa, or the elbow pit triangular area. It is common for inpatient nurses to be upset with AC lines, but the fact of the matter is an AC line is likely an ER nurse's best friend.
If a patient presents with anything that can even possibly get a CTA – You're better off choosing the AC. The LAST thing anybody wants to do is have to unnecessarily poke someone again.
So – if the patient has a neurological complaint (stroke s/s), cardiac complaint, or pulmonary complaint – a CTA may possibly be ordered and most hospital facilities/radiology staff won't inject the high-pressured dye unless there is at least an 18g or 20g in a large vein (aka AC and above).
Additionally, patients who are hemodynamically unstable should receive a 16g – 18g in an AC for large fluid resuscitation.
If the patient is getting continuous infusions and the patient occlusion alarm keeps going off, ask the patient if you can place another IV preferably in the forearm or hand.
Forearm
Forearms are the perfect location for continuous fluids because they don't kink with arm bending.
However, not everyone has great forearm options.
Additionally, forearm veins do not always reliably give great blood return for bloodwork, although this may mainly be a consideration in the ED where they typically draw blood work during IV insertions.
Hand
Hand IVs are sometimes the easiest veins to see. However, they are usually relatively small veins, and placing an 18g here may be somewhat difficult.
They are great for short periods of time, but can easily become irritated.
Additionally, they limit the use of the hand and are more likely to start hurting the patient – especially with vasocaustic infusions such as vancomycin or potassium.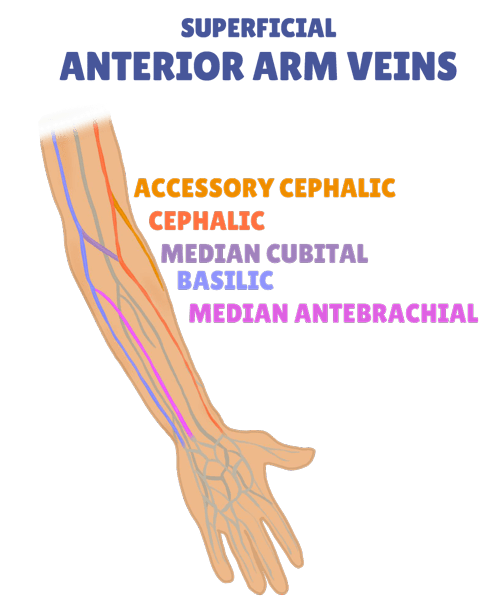 Small veins? Make them Larger
Heat
Heat is great because it causes vasodilation. When veins dilate, they become bigger.
Applying a warm compress or hot pack can help you visualize the vein, palpate the vein, and can even make threading the IV easier when starting an IV.
Just ensure the compress is not too hot to cause thermal burns.
Gravity
Putting the arm in a dependent position forces blood pooling in the distal veins, which will make them bigger and easier to see and palpate.
This should make IV insertion easier with a higher chance of success.
Also Read: "10 ER Nursing Hacks you Need to Know"

Nitroglycerin Ointment 2%
A small amount of 2% Nitroglycerin can be topically applied to a small area in order to dilate the peripheral veins.
In a small study, those with 2% Nitro ointment applied to the dorsum of their hands required fewer needle sticks than the controlled group.
Please note that this is a medication, so you need an order!

IV Insertion with Fragile Veins
Change your Selection
Sometimes, elderly patients tend to have crappy veins.
Sure, you can see them alright, but once you stick them – they blow immediately (even with a 22g).
This is definitely a good time to look for larger more proximal veins, as IV insertion in these veins tends to be more stable and not blow immediately.
Forget the Tourniquet
If you can visualize or palpate the vein without a tourniquet – try the IV insertion without the tourniquet.
Tourniquets are great for engorging the vein and causing it to dilate, but they also add pressure to the vein.
Already fragile veins will have an increased tendency to blow with the added pressure from the tourniquet. Never forget to remove the tourniquet before flushing the IV!

Don't Give Up during the IV Insertion
OK – some people HATE digging when starting an IV – and this is understandable. However, sometimes it is minimally painful and you can thread the catheter within a few seconds of "digging".
The trick is to not "dig" blindly – but instead use your fingers to palpate the accurate direction of the vein.
After inserting the needle with the catheter, if you do not get a flash of blood, pull the needle and catheter back out to almost out of the skin, re-palpate the vein, and aim again in the direction of the vein.
I can't even count how many times I missed on the first pass, but immediately threaded the IV on the 2nd or 3rd advancement.
The patient also experiences some desensitization of their pain receptors and it is usually less painful than being poked again.
However, some patients really do NOT tolerate this, and they will let you know not to "dig".
Quick Note: It is not recommended to retract only the needle while leaving the catheter in place, and then re-advancing the needle. This leads to a risk of fracturing the catheter and can possibly lead to a foreign body in the patient's body!
Related content: "How to Start an IV"

Smaller is not always easier. Sometimes 22g and below are too flimsy.
When the veins are sclerosed, hardened, or there is scar tissue – choosing a 20G might be a better bet in order to thread the catheter without any issues.
Besides – 20g IVs are better in an emergency and are more durable.
Related content: "5 Vital Signs Error to Avoid"

When inserting an IV, you can accidentally hit an artery instead of a vein.
First, if the IV is pulsating – take it out immediately. It's possible the vein is just right next to the artery, but it is likely you are actually in the artery.
This is usually accompanied by blood filling up the catheter VERY quickly – depending on the patient's mean arterial pressure.
Arterial blood tends to be a bright red, versus the darker red of venous blood.
So what's the harm? Access is access, right?
Well, sure that makes sense on the surface. But peripheral IVs inserted in arterial lines tend to have much higher complications – the worst of which being thrombophlebitis.
You can literally cause a blood clot in the patient's arm. This is even more of a risk if medications are infused through it.
Remove the catheter and try again in an actual vein.

Inserting the IV "Outside the Box"
Or rather – think outside the lower arm.
If you can, look at the upper arm as sometimes there are large veins close to the surface.
Most facilities prefer you to stick an IV in an arm, but there are exceptions. If the patient is an extremely hard stick and needs access, you can look at lower extremities, but caution against it as these are high risk for infection.
No – don't go for these strange areas initially, but in an emergency, any access is better than none.
However, in a code situation – temporary placement of an Intraosseous (IO) catheter is preferred.
If a better IV site still cannot be obtained, someone skilled with ultrasound-guided IV placement should try, or a PICC/Central line should be considered.

I have watched MANY nurses and nursing students miss when inserting an IV purely because of their technique.
They hold the skin taut, stabilize the vein, and insert – but they go right through the vein and can't thread the catheter.
I have seen that this is often from approaching the vein with too much of an angle.
You should really aim to be near parallel with the skin (10-30 degrees). Gliding the needle into the vein with this angle means once you get a flash, the needle is likely still within the vein and the catheter can be advanced.
The exception is if you are aiming for a deeper vein – you may need to increase the angle accordingly.
If you find that you insert the needle and cannot float the catheter in, despite having a "good" flash of blood – try pulling the needle and catheter out just a millimeter or two, and try advancing just the plastic catheter again.
Related content: "How to Start an IV"

Sometimes patient's veins just like to roll – and the patient will likely forewarn you about this. There are a few things you can do to minimize this.
First, pick a larger more proximal vein. These veins tend to be more stable.
Second, make sure you stabilize the vein by holding the skin taut with your non-dominant hand.
Lastly, make sure the patient does not tense up their muscles during the insertion. Tensing of muscles will cause movement of the veins. To minimize muscular contractions – use the tip below!

This IV insertion tip is really more for patient comfort than anything else. After you clean the IV site, place the needle flush with the skin right where you are going to poke.
Press the needle with the bevel up into the cleansed skin for 3-5 seconds before you poke. The longer you wait – the more desensitized their skin receptors will become – this theoretically should decrease pain.
With less perceived pain, the patient is less likely to tense up and should lead to a smoother successful IV placement. When I was an ER nurse, I used this technique every time and seemed to have good results.
Well, there you have it – 10 IV insertion tips to improve your IV game! If you have any additional tips that I didn't mention – leave a comment below letting everyone know!
You might want to also read:
Want to learn more?
Hopefully this gave you a good grasp on the basics of how to start an IV.
But if you want to learn more and become an IV King or Queen, I HIGHLY recommend The IV Video Course by @TheIVGuy.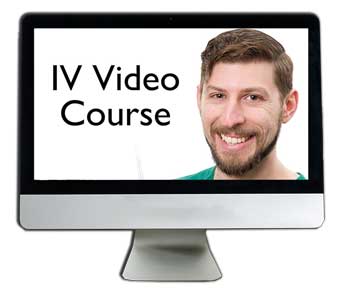 This course includes:
57 Video modules

 

from the IV basics to more advanced techniques, tips, and tricks
In-depth notes with each video module
Specific video lectures on how to successfully place IVs in challenging patients including geriatric, bariatric, combative, obese, and IV drug users
21 video demos of basically every type of IV insertion possible

2 hours of CEUs by an accredited ANCC provider
I also include some great free bonuses with the course, including:
IV Complications: Prevention, Detection, and Management

 

8-page

 

pdf
IV PUSH GUIDE

 

15-page

 

pdf
Nursing Procedure Manual: Chest Tube Insertion

 

13-page

 

pdf
Check out more about the course here.