This post may contain affiliate links, which means I get a commission if you decide to purchase through my links, at no cost to you. Please read affiliate disclosure for more information
Lets be real – you can use some tips for new nurses! Nursing school is tough, and actual nursing is even tougher! 
There is so much to learn, so much responsibility to have, and so much stress!
Use these tips for new nurses to help you become an organized, efficient, well-liked, and hard-working new nurse!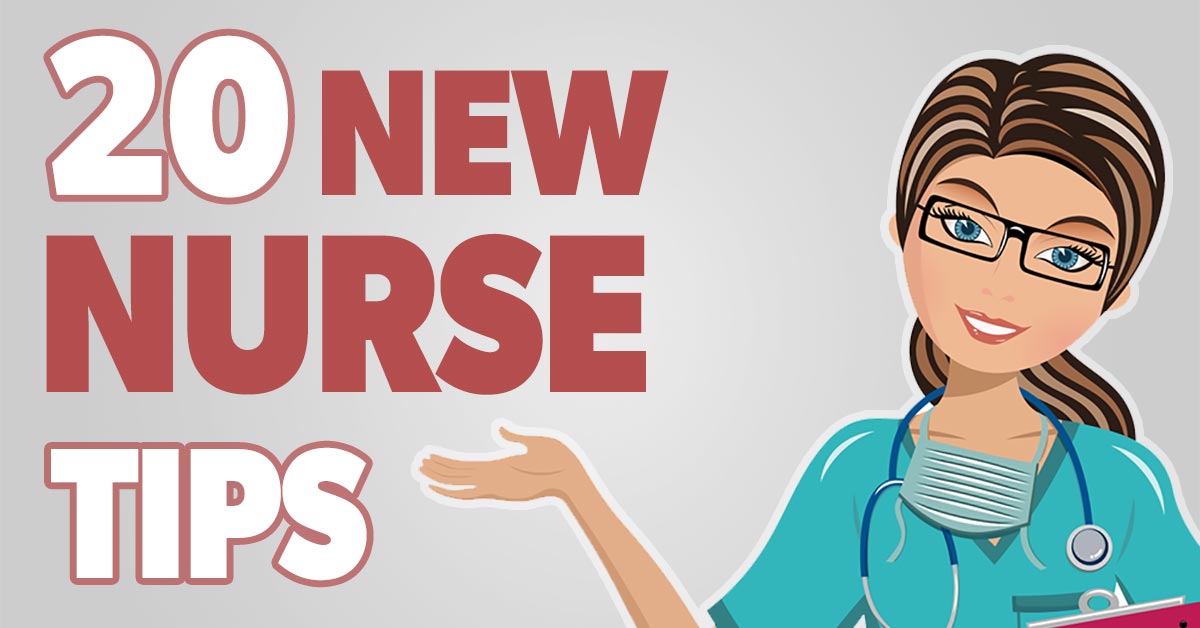 TIPS FOR NEW NURSES:
1. Get there early
As a new nurse – you still have so much to learn. Unfortunately, you're probably going to need to arrive at work 30 minutes early to begin preparing for your shift.
They should have your patient assignment ready, and you can begin looking through the chart. Make sure you write down important information like admission diagnoses, their attending physician or care team, when medications are due, and trends in vital signs.
See if they have any upcoming procedures or tests that you need to be aware of. This will help you stay organized. It also gives you more context when you get report from the previous shift.
2. Come prepared
Make sure you come prepared for your shift!
This means make sure you get plenty of sleep and have the mental alertness to care for 4-6+ patients simultaneously!
Additionally, it means bringing your must-have nursing gear. If I ever forgot to bring one of these, my shift was always negatively impacted.
This nursing gear includes:
Related Content: Essential Nursing Equipment for 2021
3. Have a positive attitude
Working as a new nurse is anxiety-provoking and stressful! No matter how stressed you get, make sure to maintain a positive attitude.
A negative attitude will rub off on your patients and on your coworkers. As a new nurse – don't get into the habit of complaining. This can tarnish your reputation and is not a good look for a new grad.
Now – this doesn't mean you can't speak up for yourself or your patients!
Even if everyone else is constantly complaining, make sure you stay positive!
4. Say yes!
One of the most important tips for new nurses is to always say yes!
No – I'm not talking about when they call you in to work overtime. I mean say yes to new learning opportunities.
If someone asks if you want to watch or assist with a procedure – say yes! As a new nurse, there is still so much to learn and so much experience to gain. You will only get this experience by saying yes.
This also looks very good and gives a good impression, because new grads are expected to be eager to learn.
5. Develop your own system
Developing a system is important as a new nurse. Humans are habitual in nature, and once you develop a system, the rest will fall more easily into place.
Write important information down on your patient care sheets so you have quick access. If you don't write it down – you most likely won't remember! This is especially true when you are juggling 4-6 patients at a time.
Keeping all your patients straight takes time and experience. So until then – you need to be extra sure to write it down and develop your own system.
Related Article: How to Stay Organized as a New Nurse
6. Don't obsess over charting
Getting comfortable with the charting system can take a while. This means charting will take you a bit longer when you're first starting out.
As nurses, you will have so many tasks and responsibilities to manage at the same time. The thought of all the charting you have to do in the back of your mind is only going to stress you out even more.
Focus on patient care first, and then the charting.
On the other hand, I also recommend real-time charting when possible, especially once you are proficient at charting. This will increase your efficiency.
Even then, pressing patient care matters more than charting, so always prioritize!
Related Article: Top 6 Charting Tips for Newbie Nurses
7. Look everything up
This isn't nursing school anymore – you're allowed to look everything up!
Nursing is an open-book occupation!
If there is something you're not sure of, either ask someone or look it up. There are so many valuable resources that you can use as a nurse when it comes to your patients.
8. Know Which Resources to Use
Don't just use Google or Wikipedia. There are better evidence-based resources to use as a medical professional!
Most facilities will have an UpToDate subscription. You might even be able to download this on your phone after making an account and logging in at your facility. This can be somewhat difficult to follow, but it has the most accurate up-to-date medical information out there for medical providers!
Other online free resources include:
Drug information can easily be found on Uptodate or Epocrates.
Some great nursing textbooks to have are:
Make sure to also look at your facility protocols. These are often jam-packed full of great information as well as how your facility expects you to perform certain procedures or handle certain clinical situations, specific to your facility.
Related Article: Top 5 Apps for ER Nurses
9. Don't be a know-it-all
Humility is so important at this stage.
Even if you're really smart and did great in nursing school – you have so much still to learn.
Some people overcompensate when stressed by acting like they are very comfortable with everything and already know everything.
This is one of the biggest mistakes to make as a new nurse and one of the most important tips for new nurses.
Letting your pride stand in the way of learning is dangerous to your patients.
Even if someone teaches you something you already know – don't say "Yeah I know" – just say "thank you".
This leaves a good impression and lets everyone know that you are committed to learning and becoming a great nurse.
10. Ask for help
Don't be afraid to ask for help!
If you aren't comfortable with a procedure – ask for assistance! Nobody expects you to be an expert.
You are a new nurse and you are expected to speak up if you don't know something. If you don't – this can potentially harm your patient and you will not learn for the future.
Additionally, if you are drowning and need some help, ask another nurse or the charge nurse for assistance. They will help you as best as they can.
11. Bounce ideas
And speaking of asking for help, another one of the tips for new nurses is to bounce ideas off of each other.
Sometimes you might not be 100% sure what to do in certain clinical situations, but you might not necessarily need to ask the Provider.
Your patient's blood pressure is high but you're not sure if it's high enough to worry? Ask another nurse, preferably one with more experience.
This can save you the stress of calling the doctor for every little thing. With time, you will learn what you can just note or document, and then what you will need to notify a Provider about.
But for now – don't be afraid to ask another nurse's opinion!
12. Keep studying
Even if nursing school is over – that doesn't mean you can stop studying! Another one of the tips for new nurses is to keep studying.
Use some of the resources listed above to read on your days off. Don't spend all day studying – but always be committed to learning.
That means you need to take initiative and put your continued education as a top priority.
I attribute a large part of my success as a nurse and then as a young NP.
13. Give great report
Learning to give a good report can take time, and not every report you hear from an experienced nurse is the model of what you should be following.
This additionally becomes important when relaying information over the phone to a Provider or specialist who may not be very familiar with the patient.
In nursing school we are taught SBAR, but I always felt like this left some gaps (maybe I just wasn't using it right).
I modified the SBAR to the IMSBAR. This is perfect to use if the Provider or other health professional is not very familiar with your patient.
This means you need to include the patient's information, their relevant medical diagnoses, and then the reason you are calling with the SBAR.
You can read more about this here.
14. Delegate appropriately
As a nurse, you now have the responsibility of delegation.
This means you can request certain tasks be completed by other CNAs or technicians, LPN/LVNs, and sometimes even other RNs.
This does not mean that they have to do anything you say, even if they're below your paygrade. Never have an elitist attitude.
When you delegate, make sure the task is appropriate for their skill level and the patient is stable. Provide any instructions clearly.
15. Don't be lazy
Make sure you are not delegating tasks that you can easily do yourself.
If you are busy providing medications or are very busy – of course, delegate a task like placing a patient on the bedpan or doing an EKG.
However, if you have the time – just do it yourself. This leaves a great impression and your CNAs and patient-care technicians will appreciate that. They are busy too, and we are a team!
Always have a kind demeanor when delegating, and never talk down to someone – even if they give you an attitude.
If they refuse, delegate to someone else or do it yourself, and bring your concerns to the attention of your charge nurse.
Your hard work will show to your colleagues and Providers, and they will respect that.
16. Take your breaks
Nursing is hard work! Time flies and work can feel like a tornado of stress and anxiety.
Your department should have a system set up where you are entitled to your breaks.
Don't refuse these. Even if you have so much charting left – take your break, eat your food, and relax as best you can.
Most facilities will give one 30-minute break and two 15-minute breaks for a 12-hour shift.
And don't chart during your break – use that time to de-wind and get ready for the remainder of your shift!
17. Prioritize your body
Like Megan Thee Stallion says – Body…ody-ody. Take care of your body while you work.
This means use proper body mechanics while lifting patients. It also means wearing compression stockings and wearing comfortable footwear.
Also, don't hold your bladder all shift. This is a common nursing joke, but your patients can spare the 2-3 minutes it takes to use the bathroom (aside from a code situation).
Anything you can do to decrease the stress on your body is important. If you "just don't have to pee", then you are probably not drinking enough water. Make sure to drink plenty of water throughout your shift!
The number of times my pee was the color of iced tea after a hard shift… NOT healthy!
18. Don't clock out
I mean – obviously, you'll have to eventually, but what I mean is don't clock out too early.
It is common to stay late as a new nurse to finish charting. Unfortunately, this is a necessary evil.
But don't let anyone guilt you or talk you into clocking out before you actually are leaving.
If you are charting – then you are still working! This is one of the tips for new nurses that is important because your time is valuable!
Clock out when you are on your way out the door – this ensures you get paid for all your hard work.
19. Take time for yourself
On your days off – make sure you prioritize yourself and your mental health.
Take a 2-3 day vacation, travel somewhere fun, stay home and relax and read a book (a non-medical book), or go swimming with your dog.
Whatever it is – make sure you don't devote all your time off to nursing as well.
Sure – continue to spend time learning and studying even with your time off, but make sure you also have plenty of non-nursing time as well!
20. Never feel pressured to work
Once you come off orientation, you will likely be eligible to work overtime.
Management will take advantage of this. Sure – extra money sounds fun, but is it always worth it?
If you don't want to work OT and you are being pressured to come in to help the department, don't.
You don't owe management or your department your time off.
They are responsible for staffing appropriately, and the blame does not fall on you for your coworkers being short-staffed.
On the other hand – if you want to work the OT and get the extra money – go for it! Just don't burn yourself out too hard!
Related Articles:
Do you have any tips for new nurses?
Comment down below to let others know!!