Last updated: January 27, 2021
The new mRNA vaccines for COVID are being distributed, and as a nurse, it is important to know these vaccines, how they work, and their safety data!
Our patients respect our medical opinion, and we need to give accurate information so they can make an informed decision.
This article mainly focuses on the mRNA vaccines (Pfizer and Moderna), as they are currently the vaccines being distributed as they have obtained FDA emergency use authorization.
With these vaccines being so new – it leaves many wondering, "is it's safe?"
I'm going to go over what the data tells us and hopefully give you enough insight into making an informed decision, and help your patients do the same!
Quick Note: I want to preface this article by first stating that I am a nurse practitioner and I see many COVID patients on the frontlines in the ED. I am not, however, an epidemiologist or scientist who works directly with COVID in a lab, so I am simply basing my own opinions on what the data says, as well as my understanding of the virus by seeing it firsthand.
1. How do mRNA Vaccines Work?
Vaccines generally work by introducing a dead or weakened virus, or part of a virus into your bloodstream via an Intramuscular or subcutaneous injection.
This creates an immune response that helps your body be able to attack the real virus whenever it comes into contact with it in the future. Typical vaccines include those with:
A live but weakened or "attenuated" virus, which leads to a better immune response, but can actually cause the disease in very few people – mainly those who are immunocompromised.
A dead or "inactivated" virus, in which the virus has been inactivated and is unable to replicate and cause disease. This doesn't create as good of an immune response so it may need multiple doses or boosters. An example of this is the flu shot or hepatitis A.
Those that contain a piece of the virus, like part of its specific protein. This also cannot replicate or cause disease. Examples include hep B, meningitis, and HPV.
There's also some vaccines that contain a toxoid that the virus creates, such as tetanus or diphtheria, like the Tdap vaccine.
The mRNA Vaccines (Pfizer and Moderna) actually do not inject the virus or any of it's parts into you.
Instead, it contains mRNA which codes for the COVID spike protein – a protein specifically found on the COVID virus.
RNA is a single-stranded molecule that normally takes information from your DNA in the nucleus of the cell, and brings it to the ribosome of the cell to create proteins which basically keep the cell running and functioning appropriately.
So what scientists at Pfizer and Moderna have done is isolated the genome sequence of the mRNA which codes for the spike protein in the coronavirus, as this protein is not naturally found within your body. So what does the body do with this mRNA?
The mRNA is absorbed into your cells and carried to your ribosome where it is used as instructions to create the spike protein of COVID.
This protein cannot lead to disease, but it should lead to an immune response. Your body sees this foreign entity and creates antibodies to kill it and any future proteins it detects.
If the actual COVID virus now enters your body, your body should be able to detect it, and your immune system will target the cell and destroy it before it has a chance to replicate enough to cause disease and hopefully prevent you from spreading it.
2. Are mRNA Vaccines Safe?
This isn't an easy question since it is so new, but so far it seems to be very safe and effective.
While mRNA vaccines have not actually been used in the US, researchers have been studying them for decades and have tested them on humans before for viruses like rabies, flu, CMV, and Zika.
In order to test the safety and efficacy of these new vaccines, clinical trials were conducted.
Pfizer and Moderna injected this vaccine into willing people and followed them for any adverse side effects, as well as those who ended up getting symptomatic COVID or severe disease.
Over 30,000 people were enrolled in the Moderna trial and over 40,000 people in the Pfizer trial.
Those who got the Pfizer vaccine get 2 injections, 21 days apart. Those who got the Moderna vaccine get 2 injections, 28 days apart.
Pfizer was tested on people 16 years and older, and Moderna was tested on adults 18 years and older.
Long story short – what they found was that most symptomatic covid cases were occurring in the placebo groups, which means those who did not receive the vaccine. Severe cases of COVID almost exclusively occurred in the placebo group!
The Pfizer vaccine boasts 95% efficacy beginning 1 week after the second dose, and Moderna boasts 94.1% efficacy 2 weeks after the second dose.
Both mRNA vaccines essentially use the same mRNA, basically the same ingredients, and both had very similar findings in their trials. This in and of itself is reassuring and offers an element of reproducibility.
The data from these trials are overall VERY reassuring. You can read more about the Pfizer or Moderna trials to get more information!
3. What Side Effects Can be Expected?
Common side effects include local injection site pain, headache, and fatigue. These vaccines should not cause COVID symptoms such as cough or SOB. It is impossible for these vaccines to cause actual COVID disease.
These vague side effects are common and expected when getting a vaccination, and are often an indication of the body's immune response. They are short-lived and not severe.
Symptoms after the first injection tend to be less severe, and symptoms after the second injection were more significant – although both were very short lived (1-2 days).
Anecdotal Note: I have received both injections from the Moderna Vaccine. After the first shot, I had arm soreness which was worse than a typical vaccine, but resolved over 1-2 days. The day after my second injection, I had body aches and fatigue which resolved by the next day.

These symptoms seem common based on my colleagues experiences as well. Those who had symptomatic COVID anecdotally reported worsened symptoms after the first dose, although still short-lived.
Are all side effects mild and short-lived? We'll dive more into that in future questions!
4. Can the mRNA Vaccines cause Anaphylaxis?
Just like any medication or vaccine, allergic reactions can occur.
Anaphylactic reactions have occurred after COVID vaccine administration, although not common, and seem to mainly occur in those with a history of severe allergies.
Overall it seems to be very rare – 11 people per million. Regardless, we know how to treat anaphylaxis and allergic reactions very well – Benadryl, Solumedrol, and Pepcid!
The CDC recommends those without a history of anaphylaxis to wait 15 minutes after their injection for monitoring, and those with a history of anaphylaxis to wait 30 minutes – just to be on the safe side.
Related Article: "Adverse Drug Reactions Nurses Need to Know"
5. Can the mRNA Vaccines cause Facial Paralysis?
Bell's palsy is unilateral facial paralysis that can occur, which is usually temporary.
In the COVID vaccine trials, there were 7 reported cases of Bell's palsy, in the over 70,000 participants in Pfizer/Moderna's clinical trials.
While there were slightly more cases in the vaccine groups than the placebo groups, this rate is consistent with bell's palsy rates in the general public, so likely not statistically significant.
However, some viruses and vaccines have been associated with bell's palsy in the past, although rare.
Even if there is a small rare chance of the COVID vaccine causing Bell's Palsy – it is usually temporary and treatable, and the benefits outweigh the risks.
Related Article: "The Cranial Nerve Assessment for Nurses"
6. Can the mRNA Vaccines cause COVID?
No – it is physiologically impossible for it to cause COVID disease.
Vaccines that contain live "weakened" viruses do have the capacity to cause disease in those who are immunocompromised – an example being the MMR vaccine.
However, those with only pieces of the virus or mRNA that code for pieces of the virus cannot cause COVID. So mRNA Vaccines cannot cause COVID illness.
7. Will these Vaccines cause False Positive Results on Testing?
No, the vaccine should not alter PCR or antigen testing. Test swabs collect viral particles and test for their genetic code. These swabs are collected from areas where you are expressing the virus, like the nasopharynx.
While the mRNA causes your cells to produce the COVID spike protein, they are not expressed or spread outside of your body.
The PCR and antigen tests check for active infection and do not check for antibodies. The vaccine should not alter these test results. 
8. Do the Vaccines Change your DNA?
No. Only specific viruses can alter your DNA. These viruses are called retroviruses and require a specific protein called reverse transcriptase.
The mRNA in the COVID vaccines do not alter your DNA in any way.
9. Do the Vaccines Contain a Microchip?
No – this is nonsense and I'm not really sure what else to say about it.
10. Do the mRNA Vaccines cause Infertility Issues?
There is no convincing evidence to suggest that the mRNA vaccines cause infertility.
This idea was picked up and used by anti-vax propaganda. This myth started when a German Epidemiologist and a former Pfizer employee asked the FDA to not grant authorization to use the vaccine.
They said that the COVID vaccine's mRNA is similar to the syncytin-1 protein which is used in mammals to help create placenta during pregnancy.
While the proteins do share a minimal amount of similar code, the scientist and medical community at large reject the notion that it could cause infertility.
While it is still so new – it cannot be said with certainty because we don't have the data. However, 23 women did conceive during these trials, and they are still being followed.
11. Can Pregnant Patients Get an mRNA Vaccine?
This is a decision that should be discussed with the patient's OBGYN, and they can come to a decision together.
The clinical trials did not study vaccination in pregnant mothers, so we don't have specific data regarding pregnant individuals. There were some animal studies that looked promising.
The American College of Obstetricians and Gynecologists (ACOG) recommends that COVID-19 vaccines should not be withheld from pregnant individuals who meet the criteria for vaccination based on priority groups. 
This means it is likely a good idea for pregnant mothers who are at an increased risk of getting COVID to get the mRNA vaccine.
What we do know is that pregnant mothers are at increased risk from side effects and complications if they get COVID.
They are more likely to be hospitalized, placed in the ICU, ventilated, and die than if they weren't pregnant.
12. Can Breastfeeding Mothers get the Vaccine?
Again – this decision should be made with the patient's OBGYN and Pediatrician.
There is just not enough data studying this to make a sweeping recommendation.
It is unlikely that the vaccines would be unsafe for the baby, and there is a possibility of passing on some passive immunity obtained from the vaccine to a breastfeeding infant.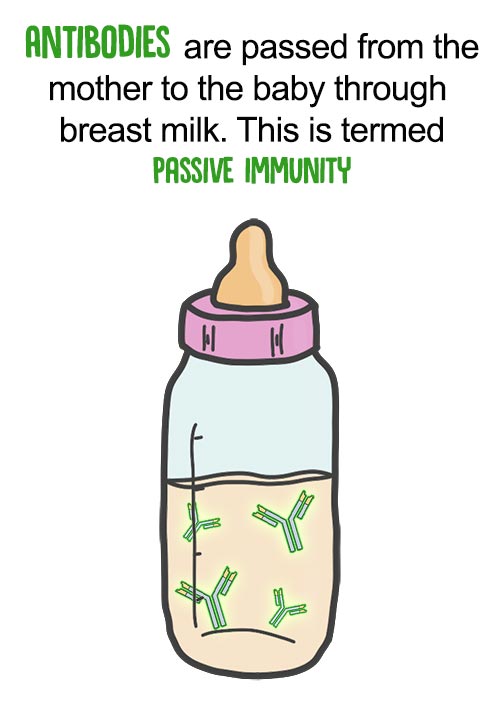 13. Can those with Autoimmune Diseases get the Vaccine?
While there doesn't appear to be any specific contraindications, this is something that should be discussed with the patient's physician / Rheumatologist.
The risks of getting symptomatic COVID may be worse than the risks of getting the COVID vaccine.
14. Should Patients who had Symptomatic COVID get the Vaccine?
The idea is that if you had symptomatic COVID – you should have natural antibodies already for the virus – so why get the vaccine?
This is a decision you have to decide on with your Provider. It likely won't hurt and could help, so the CDC is in favor or those who had COVID to also get vaccinated.
While it may be recommended to wait 90 days after symptomatic covid for the infection, this is not a rule and there is no specific timeline established.
This is more to allow those who have not built any immunity to receive the vaccine first.
You should get the vaccine after you recover from symptomatic COVID and when you feel it is appropriate.
Related Article: "These 8 COVID nursing tips could save your life"
15. What if you or your Patient doesn't get the Vaccine?
As of today COVID has killed over 400,000 people in the US and 2.15 million people worldwide. This number is rising very quickly.
Even if COVID doesn't kill you or your patients, it can cause many long-lasting side effects.
During an active COVID infection, it can cause multifocal pneumonia and respiratory failure leading to hospitalization, ventilation, and possibly death.
Severe COVID can also cause blood clots leading to pulmonary embolisms and embolic strokes.
It can cause inflammation of your brain and heart as well, leading to irreversible damage in some cases.
There have been observational studies done which show that up to one-third of patients who had symptomatic COVID had persistent symptoms after resolution of the virus. These include:
Fatigue
Dyspnea (Shortness of breath)
Chest Pain
Cough
Anosmia (loss of smell)
Ageusia (loss of taste)
More (joint pains, headaches, myalgias, etc)
There may still be other long-term side effects that we still don't know about. 
So what's riskier? Getting a vaccine that seems to be very safe and doesn't seem to have any serious long-lasting side effects, or take your chances with getting COVID?
I can't make that decision for you or your patients.
But if you do decide to get the vaccine, what can you expect?
16. If you get the Vaccine, What can you Expect?
You can expect to get 2 injections, 21 days apart with Pfizer or 28 days apart with Moderna.
The full efficacy seems to be established about 1-2 weeks after the second injection, depending on the vaccine (1 week after Pfizer, 2 weeks after Moderna).
These were the timelines studied in the clinical trials.
17. Can I Stop Wearing Masks and Social Distancing once I'm Vaccinated?
Well – no, not immediately.
Remember that even a 94-95% efficacy still leaves that 5-6% of people who will still get symptomatic COVID.
These people will likely be contagious, and they still could get severe COVID and have to be hospitalized or worse.
Secondly, both Pfizer and Moderna require 2 shots before full efficacy is expected. The body takes time to build up an antibody response. It can take 1-2 weeks after the second dose for full efficacy.
Additionally, it has not been proven by evidence that these vaccines prevent you from spreading COVID. The trials only prove that they are 94-95% effective at reducing symptomatic COVID.
That's right. Even if you don't get symptomatic COVID – you could possibly spread it.
18. Could you get the COVID vaccine and be an Asymptomatic Spreader?
Theoretically, it is unlikely that you will be spreading the virus after vaccination.
Hopefully, your body has created an immune response and antibodies which will attack COVID before it can replicate and cause disease or be contagious.
HOWEVER – we don't have the data to back this up, and there another important consideration – Mucosal Immunity.
We don't know how well the antibodies penetrate the nasal mucosa. There is a possibility that the virus can still replicate in the mucosa of your nasopharynx.
While it may not cause symptomatic disease since you should have circulating antibodies – you might still spread it to others when coughing, sneezing, or even breathing.
This is something that we should have more data on soon.
This is why it is imperative to continue to wash our hands, wear our masks, and practice social distancing.
19. When will Herd Immunity be Established?
It is going to take some time for the majority of the US to become vaccinated.
This means we need about 70%+ of the population to be vaccinated or infected before some type of herd immunity can be expected and established.
Herd immunity occurs at different percentages of vaccinated/infected individuals based on each specific virus.
This number is unknown for COVID, but experts say at least 70% need to be vaccinated and/or infected for some type of herd immunity to protect us.
It is unlikely that mask mandates and social distancing will become a "thing of the past" until we get to this point.
20. Will the mRNA Vaccines Cover the New Strains?
Unfortunately, there are multiple mutated strains or variants popping up in the UK, Africa, and other places.
These strains are spreading fast as they are more contagious (30-70% more transmissible).
However, these don't necessarily seem to be more deadly. However, with surges in COVID cases and hospitalizations, increased deaths could occur due to the burden put on the healthcare system.
As far as we know, these vaccines should be effective against these mutated variants.
However, preliminary data does suggest that the vaccines may not work as well against the South African variant! Just in case, Moderna has already begun production on a "booster shot" which would specifically target these variants.
21. How Long will Immunity Last from these mRNA Vaccines?
As mentioned above – complete immunity is not guaranteed.
However, if antibodies are created, it is unknown how long they will last.
What we do know is that immunity wanes over time. Those who get symptomatic illness tend to build a better immune response than those who get vaccinations.
Many patients who had symptomatic COVID in early 2020 still have antibodies – this is good news!
We don't know how long immunity will last, and we don't know how much further mutations will alter the effectiveness of the immunity.
22. Are there other Vaccines Available?
Pfizer and Moderna are mRNA vaccines which have already obtained emergency use authorization (EUA) from the FDA.
There are two other vaccines that may obtain approval as well. These are not mRNA vaccines. They include:
Johnson & Johnson, which uses adenovirus to carry genetic material for COVID
AstraZeneca, which uses a chimpanzee adenovirus to do this
These do not appear to be as effective as the mRNA vaccines, but may still prove helpful, and we must continue to follow the data.
Production and distribution of the mRNA vaccines will prove tough, and additional effective vaccines will be helpful!
So Should you or your Patient get the Vaccine?
That's for you to decide, based on the data and taking into account what your physician or healthcare provider recommends.
Additionally, it is for your patients to decide based on informed consent.
It is not your job to judge them or tell them what to do. All you can do is offer evidence-based recommendations and up to date information, and allow them to make that decision for themselves.
You can also lead by example and get the vaccine for yourself, trusting the science and once again being that hero that we were once called in the beginning of this pandemic.
I think frontline workers and those with a high risk should seriously consider getting vaccinated.
As far as everyone else – that' a decision you (or they) have to make, but the data looks promising and this could be our chance at returning to a state of semi-normalcy.
Note: If you want more information – you should follow Dr. Kat the Epidemiologist on TikTok! She creates great content backed in science on all things COVID and mRNA Vaccines!