Med-Surg nurses can utilize nursing hacks to their advantage in order to save them time and make their shift more manageable!
Nursing hacks are tips and tricks of the trade, sometimes new and sometimes old, which help "get the job done" quick and efficiently, while still maintaining quality care!
If you're not using these Med-Surg Nursing hacks, you are missing out!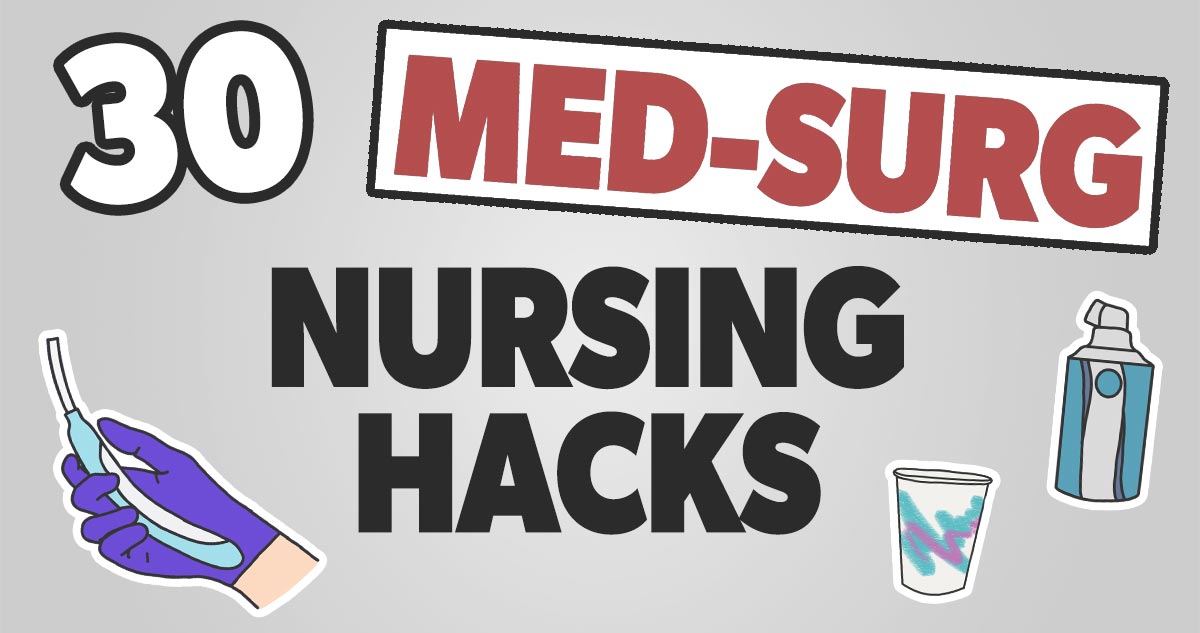 URINE HACKS
Ok – Med-Surg isn't all bodily excrement – but you will run into pee and poop this in most aspects of nursing within the hospital.
There are so many poop and pee hacks to read through, you might need to take a bathroom break afterwards.
1. Cough and Wink
It is no secret that it can be difficult to insert a urinary catheter into some female patients.
This is because there is so much variation in each patient's anatomy, and the patient's body habitus can make things difficult to see.
Positioning, lighting, and assistance are all important, but sometimes it can still be difficult to hit the mark (in this case – the urethra).
If you are in position and are having trouble finding where to go, have the patient clear their throat and cough. This should cause the urethra to "wink" at you if visible, making your target stand out.
2. Foley²
If you think you know where you're going, or if you go in blind and end up in the vaginal canal – you may need to try again.
One thing you should NEVER do is take the foley out, and then reinsert the same foley into the urethra (hello UTI!).
Instead of taking out the first failed foley – leave the foley in place in the vaginal canal and open up a new kit, aiming above the catheter within the vaginal canal.
This can help you hit the mark. Second times a charm – right?
3. Beta-Block it Up
No – I'm not talking about metoprolol.
In a foley kit, there should be a betadine swab or stick that is used to clean the area before insertion of the catheter.
After cleaning the area correctly, leave the betadine stick in the vaginal canal. Similar to the double foley trick, this should "block" the vaginal canal.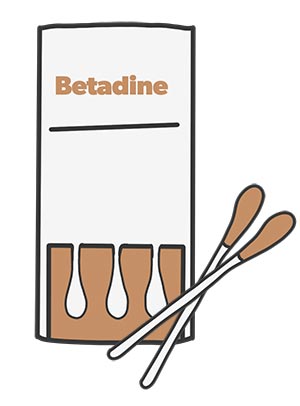 If you aim above this – this could increase your chance of success! Don't forget to remove the betadine stick when you're done!
4. Kerlix It
Every patient on Med-Surg is different, and sometimes variations need to be made!
For patients with larger vaginal canals, you could use a thicker material such as a clean roll of kerlix to essentially "block" the vaginal canal and helping you enter the urethra without much difficulty.
5. Double Glove
When putting on a foley, sterile technique is required to prevent infection.
However, the cleanup once the foley is inserted can be messy, and your sterile gloves will be saturated with lubricant, betadine, and body fluid.
To make it easy, before applying sterile gloves, put on a clean pair of gloves after washing your hands.
Then apply sterile gloves as needed (you may need a bigger size).
Once the foley is inserted and you are ready for cleanup, take off the soiled sterile gloves, and clean up everything else with your second set of clean gloves.
You should be able to secure the foley with these clean gloves as well.
6. Trans
Pee

Tation

It's inevitable with Med-Surg nursing that your patient will need to be transported all over the hospital for tests.

Additionally, they will usually be encouraged to ambulate to keep up their strength and prevent blood clots.
Transportation can be challenging with a foley and the last thing you want to do is have the foley get caught up on something and rip out, so this is where this nursing hack comes in handy!
If your patient wants to get up and walk, tie a glove around an IV pole at a level below the bladder.
Hook the foley onto this glove to use as a portable hook!
7. Purewick
Not so much a nursing hack – but more of a reminder.
Don't forget that foley catheters are not the only option you have, and they do come with risk as they are invasive and often can lead to infection.
Many hospitals have Purewick catheters which hook up to suction to prevent the patient from lying in their own urine and causing skin breakdown.
This can be a great option for elderly female patients with urinary incontinence.
Also check out: 10 Nursing Hacks Every ER Nurse Should Know
STOOL HACKS
Another unfortunate aspect of Med-Surg nursing – you will have to clean patients up when they poop themselves.
It's honestly not a big deal, and you will quickly not even think twice about it.
BUT – there are nursing hacks that can help you in some of these instances!
8. Double Glove Again
Foley's aren't the only instance where double gloving comes in handy!
When cleaning up a messy poop situation, be sure to double glove or even triple glove with clean gloves!
Your gloves will inevitably become soiled and you will then be able to remove the soiled pair and continue cleaning the patient without issues.
Additionally – imagine if you only had one pair on and one of them ripped. Dead.
9. Shaving Cream Cleaner
We should be checking on our patients often and making sure they do not sit in their own pee or poop for too long.
However, med-surg nursing is busy, and sometimes the poop becomes dried onto the patient's skin and can be difficult to remove.
Bust out some shaving cream which you should be able to find in the clean utility.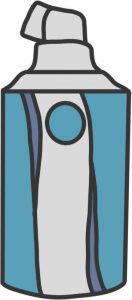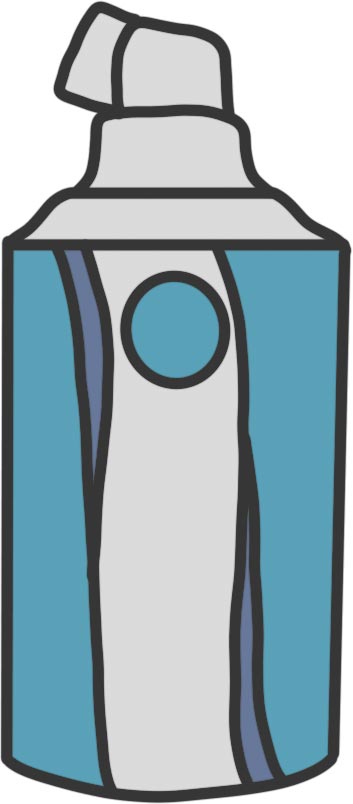 Apply the shaving scream to the crusty poop on the skin, give it a few minutes, and wipe it off with soap and water or cleaning wipes.
It should wipe off without issue!
10. Constipation Cocktail
The only person more concerned with a patient's bowel movement than you is the patient themselves (better yet – their family members).
If the patient is worried they may be constipated and are hoping to have a bowel movement, you could reach out to the physician and ask for something
If the patient is truly uncomfortable, reaching out to the Provider is the best option.
Another option is to get prune juice, put some butter in it, and microwave it for 20-30 seconds.
This will melt the butter and the prune juice should be warm.
The best part is this often works, there are no significant side effects, and you don't need an order for it.
Of course, if your patient is having significant abdominal discomfort or nausea/vomiting, you should be reaching out to the Provider regardless!
11. Prolapse Relapse
It was my first week off of orientation as a brand new nurse on a Med-Surg nursing floor, and I had a patient complain of rectal pain.
I checked it out and WOW – that did NOT look right. What I was seeing was my first-ever rectal prolapse.
This specific patient had a history of this from happening, and you can reduce the prolapse as a nurse.
This can be done by applying some lubricant and applying firm pressure toward the patient's rectum.
However, sometimes large prolapses can be difficult to reduce.
For this nursing hack, sprinkle some sugar on the prolapsed rectum and allow to sit for 15 minutes.
This dehydrates the prolapse, causing it to shrink and making reduction easier.
GASTRIC TUBE HACKS
Nasogastric (NG) tubes are a nursing procedure that is unpleasant but often necessary. This is usually ordered for small bowel obstructions (SBO).
Sticking a tube into the patient's stomach from their nose allows suction to decompress the stomach, alleviating symptoms such as nausea, vomiting, and bloating.
It also decreases intrathoracic pressure and improves the venous return to the heart when the patient is ventilated, as well as reduces the risk of aspiration.
While NG tubes can really help your patient, unfortunately, the insertion procedure can be somewhat difficult. There are some nursing hacks that you can use on your med-surg nursing floor when an NG tube is ordered!
12. NG Twisted Ice'd Tube
During insertion of an NG tube, sometimes the tube has a tendency to curl in the oropharynx and not enter the esophagus as intended.
In order to help this, curl the distal portion around your finger, and freeze it in ice water for 10-15 seconds. This will help it keep its curled shape.
Insert the NG tube (with lube of course) with the curl in the direction of the pharynx (downward).
Right before the oropharynx, twist the tube 180 degrees. This ensures now that the "hook" is facing posteriorly, and shouldn't curl out the mouth.
13. Numbogastric Tube
NG tube insertions are uncomfortable for the patient, but once it is in they should get some relief.
In order to make an NG tube insertion more tolerable, you can numb up the area first, and there are a few ways to do this.
You can get a Urojet with 2% viscous lidocaine and squirt it up the patient's nare in which you intend to insert the NG tube.
Do this 5 minutes beforehand (you will need an order). While this is proven to decrease pain, it can increase the difficulty of the insertion (sticky!). See here for the full technique!
Additionally, 3-4mL of lidocaine (2-10%) can be placed in a nebulizer and given to the patient until gone. Then immediately insert the NG.
While this does reduce pain during insertion, it can increase the risk of epistaxis.
14. The Medication Pulverizer
This one is interesting, but it can make crushing meds for a PEG tube easy!
Open an empty 10mL syringe. Take out the plunger completely, and place the pills inside.
Re-insert the plunger up to the pills, and then aspirate 3-5mL or so of tap water.
Next, plug up the end with a clean gloved finger, and pull back the plunger, creating a vacuum. This should crush the pills inside!
You can then squirt this into a larger volume before administration into the Peg tube.
If you need help visualizing this, check out this quick video!
PICC HACKS
PICC lines are central lines placed peripherally in the hospital setting. These are often placed on patients with very difficult access or those who will require long-term therapy such as antibiotics.
With med-surg nursing, you will have to become comfortable dealing with PICCs: administering medications through them, as well as drawing blood.
Unfortunately, PICC lines can get clogged up which can make either task difficult.
But fear not – there are some nursing hacks that can help!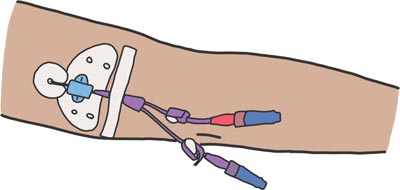 15. Switching the Positions for You
Whenever you are having a difficult time flushing or aspirating blood from a PICC line, there are some maneuvers that the patient can do which may be able to help.
A central line occlusion can be mechanical (think kinks!), Postural (based on positioning), from medication precipitates, or from small blood clots (a thrombus).
Often, this is positional and simple maneuvers can help with flushing or blood aspiration. Moving the arm position (raising it above their head) sometimes can help.
You can also have the patient turn their head in the opposite direction, take a deep breath, and cough. This can increase pressure and change the positioning of the catheter and lead to successful flushing or aspiration.
16. CathFlo Bro
Sometimes there is a partial or complete occlusion of the central line by a thrombus. You will notice significant resistance when flushing or aspirating (or complete resistance).
In this instance – Alteplase can be used. This is the same medication as TPA given for strokes, but at a much lower dose and intended to remain within the central line.
When there is a partial occlusion, alteplase (also known as Cathflo in this instance) can be instilled into the PICC (2mg in 2mL). Allow to dwell for 30-120 minutes, however long it takes to successfully resolve the blockage.
If there is a complete occlusion (aka you can't flush it at all), you can use a three-way stopcock, create negative pressure with an empty syringe, and then slowly flush the alteplase through. This can take some time, and make sure you follow your facility's policies and procedures.
When you have given it 30-120 minutes, aspirate 4-5mL of blood and waste, then flush through with sterile saline.
This can be repeated twice in a row if not successful the first time.
Also check out: 20 Tips for New Nurses In the Hospital
BLOODY HACKS
Blood is something that all nurses will have to deal with in some capacity – especially nurses within the hospital.
Whether our patients are bleeding, we are drawing their blood, or a procedure causes bleeding – it will inevitably get all over.
Of course, nurses should be using universal precautions and hopefully, the bleeding is controlled. However, sometimes it can get messy and be difficult to clean up.
Dried blood can be very difficult to clean, and there are a few nursing hacks that can help!
17. Alcohol Swab
A well-prepared nurse always has alcohol swabs in their pocket.
If you have trouble getting a small amount of dried blood off of a patient's skin, bust out the swab and start scrubbing.
This is somewhat effective, although soap and water or cleaning wipes will likely do just as well. So this is especially useful for small amounts of blood.
18. Hydrogen peroxide
Hydrogen peroxide can be used to get dried blood out of clothing and off of skin.
When hydrogen peroxide meets your blood, oxygen is created and bubbling/foaming is seen. This breaks down the blood and allows for it to get out of your clothing and off of dry skin.
Following up with soap and water or cleaning wipes is beneficial.
19. KY Lubricant
Lube is useful for so many activities (both in and out of the hospital), but did you know it can also help with blood?
Specifically, it helps get rid of dried blood on the patient's skin.
Leave the lube in place for a few minutes and then come back and wipe it up. This will usually make the removal of the blood a piece of cake. Ultrasound Gel works too!
ArtiFACTS of Life
Many patients on a Med-Surg nursing floor will have telemetry / cardiac monitoring ordered. This is a great tool we can use to monitor a patient's heart rate and rhythm, but sometimes there can be difficulties obtaining a good tracing.
Poor tracing of a cardiac rhythm is termed "artifact" and there are many different potential causes.
Artifact can be from excessive patient movement, tremors, or shaking; but it can also be from improper application of the electrodes.
If your patient's monitor has excessive artifact despite not moving or shaking, try these ECG nursing hacks:
20. Replace the Electrodes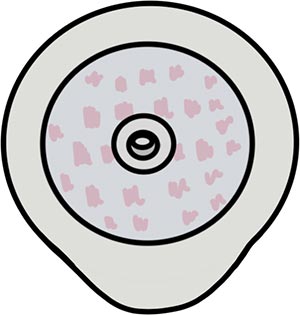 The electrodes could be old and dry, decreasing the conduction and quality of the ECG tracing.
Electrodes should typically be replaced every day.
21. Clean the Skin
Dead skin cells, dirt, and grime can all interfere with the conduction of the ECG.
Before applying the electrodes, try washing the patient's chest with soap and water or a cleaning wipe.
In a pinch, using an alcohol wipe over the areas in which you are placing the electrodes can help exfoliate the skin.
Allow to dry before applying the new electrodes.
22. Shave it Off
Hair can be a big interference when conducting cardiac activity.
If the patient is excessively hairy in the areas where you need to place the electrodes, you may need to shave them to get good conduction.
23. Change the Equipment
Sometimes the wires or equipment is the problem. Switch out the equipment or wires and see if you get a better result.
24. Remove interference
Electrical signals from other equipment can interfere with the telemetry monitor and cause artifact.
Make sure the wires and telemetry box are not in close contact with any other equipment such as an IV pump.
Make sure the patient's electrodes are not overtop of a pacemaker or ICD!
25. Make Due
Sometimes no matter what you try, there still may be some artifact. Try adjusting the amplitude and changing the lead view to obtain the best view with the least amount of artifact.
I also have a video course all about how to read ECG rhythm strips, which you should check out if you're interested!
IV HACKS
Now this is a section that deserves it's own post, and lucky for you I have one here!
On a Med-Surg nursing unit, you won't have to put in IVs as much as the ER, but it is still a skill that you will have to use and improve on. Patient's IVs go bad all the time and they may need replacement.
I will outline some basic hacks here, but be sure to read the full article as well if this interests you!
26. Try Defying Gravity
Use gravity to your advantage! Hang the extremity below the level of the heart (off the bed).
This will cause vasodilation of the veins and increase your target vein! This will make it easier to see, feel, and cannulate!
27. Heat it Up
If Gravity isn't enough, you can try a nice warm compress or hot pack! This will also cause vasodilation and increase your chance of success
28. Nitroglycerin
You can obtain an order for a small amount of 2% Nitroglycerin ointment to be applied to the area in which you plan to cannulate. This will also cause vasodilation.
29. Blood Pressure Cuff
Using a bedside blood pressure cuff can help you from blowing a vein. Pump the pressure cuff just above the patient's systolic pressure.
This will prevent excess pressure from the tourniquet, but still enough to engorge the veins.
30. Start Digging
If you don't see a flash of blood on your first advancement, don't give up just yet.
Pull the needle and catheter back, re-palpate the vein, and attempt to insert in the direction of the vein again. If the patient can tolerate this, it will prevent extra pokes.
Also check out:
Want to Learn More?
If you want to learn more about how to read an ECG and cardiac arrhythmia – check out my ECG Rhythm online video course out now!
It's specifically designed for nurses, and not only teaches you how to identify each arrhythmia, but also why and how they occur, and what to do about it!
If you're not ready to take that leap yet but still want to learn more about ECG rhythms – be sure to download my free ECG Cheat Sheet below!
You may also like: