Medications are a huge part of modern medicine and how we treat disease, but there are many adverse drug reactions that can occur.
As nurses, it is important to educate our patients about these adverse drug reactions, what to expect, and what to do if they are experienced by our patients.
Some of these medication reactions are ingrained in us, but others are less commonly taught.
Make sure you remember to educate your patients who are being prescribed these medications!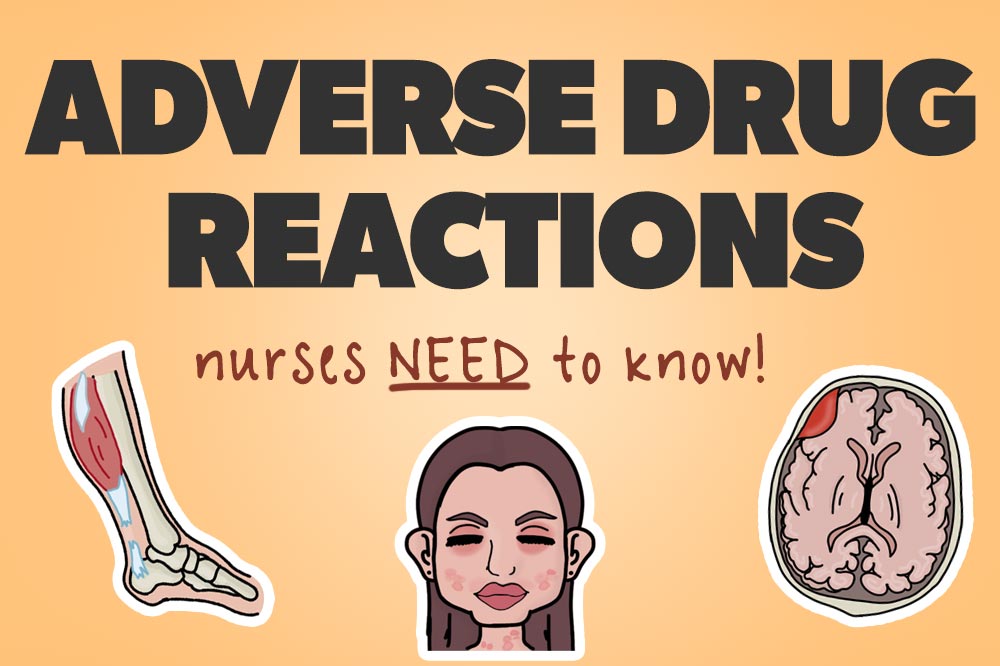 Antibiotics and Adverse Drug Reactions
Antibiotics are essential in treating bacterial disease, but they don't come without their own side effects!
There are many different classes of antibiotics. Because of this, some adverse drug reactions apply to only certain antibiotics, and some apply to antibiotics as a whole.
1

.

Diarrhea and Antibiotics

All antibiotics can cause diarrhea. This is due to normal "good" bacteria in your intestines being killed by the antibiotic, leading to imbalances digestion.

While all antibiotics can cause diarrhea, there are certain antibiotics that are more likely to cause diarrhea.

These include amoxicillin, cephalosporins, clindamycin. When mixed with clavulanic acid, diarrhea tends to be more pronounced (i.e. Augmentin).

Clostridium Difficicile (CDIFF) is an opportunistic diarrheal infection that can lead to profuse diarrhea and can be difficult to treat.

Antibiotics increase the risk of CDIFF – especially broad-spectrum antibiotics like cephalosporins, fluoroquinolones, and clindamycin.
Patient Education Example: "Some watery diarrhea and mild cramping can be expected while on antibiotics. Make sure to stay hydrated if this occurs. If you have excessive diarrhea, severe abdominal pain, abdominal swelling, fever, or blood or pus in your diarrhea – you should contact your doctor or return to the emergency department". 

2

.

Allergic Reactions

All medications and antibiotics can cause allergic reactions.

True allergic reactions cause itchy hives and potentially swelling of the face, eyes, lips, or mouth. It can even cause swelling of the airways and lead to wheezing and stridor.

When giving any prescribed medications, the patient should always be educated on the potential signs of an allergic reaction.
Patient Education Example: "All new medications can cause allergic reactions, and mild-moderate allergic reactions are common with antibiotics. If you develop a red, raised, itchy rash, immediately stop taking the antibiotic and call your doctor. If you develop swelling of the face, eyes, lips, tongue, or shortness of breath – this is potentially a life-threatening severe allergic reaction called anaphylaxis, and you should seek immediate medical care or call 911."

3

.

Rifampin and Birth Control

Antibiotics were frequently thought to interact with birth control… but this is somewhat of a myth.

There is no convincing evidence that any antibiotic other than Rifampin interacts with birth control.

Rifampin is not a commonly prescribed antibiotic but is the recommended treatment for tuberculosis.

There is a concern that antibiotics as a whole can affect the gut microbiome which may alter estrogen levels, but this has not been proven and is likely untrue.

If patients are prescribed rifampin, they should be educated to use backup protection for up to 1 month after they finish the rifampin.
Patient Education Example: "While commonly believed to interact with birth control, there's no evidence that most antibiotics do. If you want to be safe, you can use a backup method like condoms while taking the antibiotic, and up to a few days to a month after you finish."

4

.

Doxycycline and GI Upset

Doxycycline is commonly given for infections including cellulitis, URIs, tick-borne illnesses, pneumonia, STDS, and more.

Doxycycline works great, but it does have some significant adverse drug reactions that we need to educate our patients about.

Doxycycline can cause some significant GI upset, including nausea, vomiting, and diarrhea.

Educating the patient to take this pill with food or milk can help, although it may inhibit some absorption of the drug.

Doxycycline (and clindamycin) can cause drug-induced esophagitis which can lead to significant inflammation and pain within the esophagus.

To prevent this, educate the patient to take Doxycycline with a full glass of water, milk, or eat food afterward, and stay upright for 30 minutes after taking it.
Patient Education Example: "Doxycycline can cause significant nausea and vomiting, and drinking milk or eating food directly after taking it can help minimize this. If not, drink with a full glass of water and remain upright for 30 minutes afterwards to prevent any damage to your esophagus."

5

.

Flagyl and ETOH

Metronidazole, or Flagyl, or is commonly given for intestinal infections like colitis or diverticulitis, and for vaginal infections like trichomoniasis.

Flagyl is traditionally taught to NEVER be taken with alcohol as this can cause a "disulfiram-like reaction".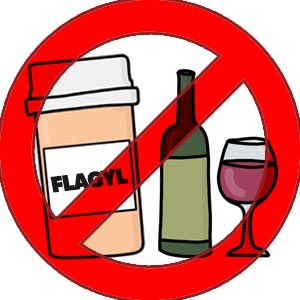 Disulfiram causes excessive nausea, vomiting, and other unpleasant symptoms when mixed with alcohol.
Evidence of this severe reaction occurring with Flagyl is somewhat lacking, but it can sometimes occur. Educate the patient on this potential reaction, but if they do drink they may be fine.
It is never a bad idea to recommend against taking medications with alcohol.
Patient Education Example: "Flagyl can potentially cause nausea and vomiting if taken with alcohol. Avoid any alcohol consumption while taking it". 
6

.

Fluoroquinolones and Tendon Rupture

Fluoroquinolones are a powerful class of antibiotic which kill a broad-spectrum of bacteria.

These are commonly utilized to treat UTIs, Abdominal infections, and Pneumonia.

Fluoroquinolones have fallen out of favor recently due to their large number of potential side effects, even if rare.

These side effects include:
Hyper/hypoglycemia
Peripheral neuropathy
CNS effects (seizures, increased ICP, tremors)
Psych reactions (psychosis, hallucinations, deririum, etc)
Aortic aneurysm and dissection
Tendonitis and tendon rupture.
Sometimes these antibiotics are still needed, so be sure to educate the patient on these possible side effects.
The tendinopathy can occur hours or days after starting the antibiotic or sometimes delayed for months.
This is more likely to occur in those >60 years old, those on steroids, with diabetes or kidney failure, or with extended therapy.
Patient Education Example: "Cipro can rarely cause significant side effects like inflammation and even rupture of your tendons, most commonly the Achilles tendon above your heel. If you feel any swelling or pain in this area or near another joint, immediately stop taking and contact your doctor".

Non-Antibiotics and Adverse Drug Reactions
Antibiotics are not the only cause for adverse drug reactions, and every medication has expected side effects.
While there are many potential adverse effects for every single medication, there are a few common or interesting side effects you should know to educate your patients on!
7

.

Dexamethasone and the Burning Crusade

Dexamethasone is a steroid given for various reasons, including sore throats, cerebral edema, migraines, and various other conditions in and out of the hospital.

Dexamethasone is commonly ordered IV in the ED and hospital. One interesting side effect that you need to warn your patients about perineal discomfort when given IV.

When given rapidly, perineal discomfort (burning or tingling) can occur.

I've personally heard "MY CROTCH IS ON FIRE!".

This is usually short-lived but can cause significant discomfort and be shocking for the patient if not warned.

Dilute the dexamethasone in NS and infuse over 15-30 minutes to help minimize this side effect.
Patient Education Example: "I'm going to give you some IV Dexamethasone to help with your condition. Sometimes it can cause brief burning or discomfort in your groin, but we are giving it slowly to try and prevent that. It can still happen though, so if it does I just want you to be aware." 
Related Content: 
8

.

Adverse Drug Reactions with Opioids

Opioids like Oxycodone or Hydrocodone are commonly given for pain and can be a great tool we can use to offer relief to our patients.

Unfortunately, opioids do have significant side effects that need to be taught to our patients.

Opioids cause respiratory depression and this is how opioid overdoses kill people.

But appropriate doses, it shouldn't cause significant respiratory depression unless mixed with other medications or alcohol.

Opioids also cause drowsiness and even stupor, so anything that requires a high level of mental alertness needs to be avoided.

This includes driving or operating heavy machinery.
Patient Education Example: "Oxycodone helps your pain but can cause drowsiness, so you shouldn't drive or operate any heavy machinery. It can increase your risk of falls, so be careful on the stairs. You should never take this medication with alcohol, other opiates, or benzodiazepines like Xanax or Ativan."
Related Content: Opioid Alternative Analgesics in the ER
9

.

Anticoagulants and Bleeding
Anticoagulants are often necessary to prevent blood clots in those with a history of DVT, PE, or Atrial Fibrillation.
Unfortunately, they also hinder the body's natural ability to clot when injured.
This can lead to ineffective clotting and an increased risk of bleeding. Patients on blood thinners should take extra precautions to prevent trauma like falls.
If there is a head injury, these patients should be evaluated by a medical professional, preferably within the ED where a CT scan can be obtained to rule out an intracranial bleed.
Patient Education Example: "Eliquis helps prevent blood clots, but it also increases your chance of bleeding. If you fall or sustain any injury, you should be evaluated by a doctor. If you hit your head, you should call your doctor or come to the ER."
Every medication has adverse drug reactions, but we should be knowledgeable about these common or potentially serious reactions, and educate our patients!
Is there any other drug reaction that you are sure to educate your patients about? Let us know in the comments!