The ECG Rhythm Master
(see all reviews!)
Learn to MASTER the cardiac rhythm strip and know how to handle any arrhythmia that comes your way!
Ready to take your cardiac rhythm knowledge to the next level?
If you like my articles, you're going to love this course 😊
Learn how to identify ALL cardiac rhythms, both good and bad
Know the P-QRS-T Inside and Out
Understand the pathophysiology of Why and How arrhythmias occur
Learn how to manage arrhythmias like an EXPERT
Master the Basics of How to check an EKG and Cardiac Rhythm
Review emergency procedures and life-saving medications
Hi, I'm Will!
In 2014, I starting working as a new nurse on a telemetry floor – you know, the one with all the cardiac monitors! I felt so underprepared and I had so many patients on cardiac monitors.
Like many other new grads, I wasn't super great at interpreting the complex patterns of ECG rhythm strips accurately.
I knew I had to learn, and fast. 
During work shifts, I'd be too busy taking care of my patients to do too much studying, but in my free time I would immersed myself in books, courses, and tutorials about understanding and identifying ECG rhythms.
I analyzed countless rhythm strips, from atrial fibrillations to ventricular tachycardias, from sinus rhythms to complex heart blocks.
And then, the "aha" moment! The more I studied, the clearer the patterns became. I realized that with the right guidance and persistence, anyone could master these rhythms.
From that point on, I committed myself to simplifying ECG rhythm interpretation. The results? I became the go-to person for rhythm assessments in my department.
I know it might seem overwhelming, especially if you've struggled with ECG rhythms before. But trust me, once you know the secrets, it's like unlocking a new world.
My course isn't just about the knowledge I've gained, but it's about giving you the practical tools to interpret rhythms with ease and confidence.
Now, I won't say everyone will become an expert overnight. But my aim is to provide the most comprehensive and intuitive ECG education available, giving you the tools you need to be a rockstar go-to person for cardiac arrhythmias and their management!
The Proven Pathway to Mastering ECG Rhythms with Ease
Anyone can watch an ECG demonstration or go through a few rhythms on a simulator.
But truly understanding and accurately interpreting those rhythms? That requires a deeper understanding and a structured approach.
The formula is straightforward:
Begin with foundational knowledge of the heart's electrical activity.
Dive deep into common rhythms and their clinical significance.
Engage in practice with rhythm strips from EVERY cardiac arrhythmia.
Consistently revise and challenge yourself with complex cases.
Get better and better at rhythm interpretation!
With dedication and the right guidance, I can confidently say you'll master ECG rhythms and make a significant difference in patient care.
Why do so many nurses fail to master this skill?
It's an alarming fact that many healthcare professionals lack confidence in their ECG interpretation skills, which could impact patient care.
Common pitfalls include:
Focusing solely on textbook rhythms and ignoring real-world variations.
Not seeking hands-on practice.
Not staying updated with the latest guidelines.
Giving up after a few misinterpretations.
Assuming it's too complex and settling for surface knowledge.
Not connecting rhythms to clinical implications.
Trying to learn in isolation.
Relying on outdated methods or oversimplified apps.
Considering these challenges, it's not surprising that many struggle!
While you could navigate this journey alone, it's a challenging path. My background as a nurse and later a nurse practitioner in the ER and inpatient settings allowed me a unique insight, bridging the gap between theory and practice.
Many who try to learn it alone still lack confidence in critical scenarios.
You could try to figure it out on your own…
Or you can follow the lead of my students and take the STAT route to success!
Olga O
BSN, RN
"
"This course is user-friendly and aesthetically pleasing. It is simple to follow and information is provided in clear terms. I am pleased that the information is provided via text, images, and audio… The education is provided in a clear easy way and makes it more enjoyable to study compared to reading a 300+ page textbook!"
Raj P
RN, BSN
"
"Just finished the course and all I can say is it was great. The videos are super clear and straight to the point - I loved the visuals! I also liked the PDF chapters that I printed off which made it super easy to digest the info. Great job man - would def recommend!"
Dina S
NP
"
"I 'thought' I felt confident with a basic ECG… I was not as confident as I thought. After the course, which I went through a couple of times by choice, I feel a truly earned confidence. Just. Do it. Go. For. It! You will NOT be sorry. Aside from the rhythm practice, the explanations and memory tools are well worth it alone!"
Consistently Recommended
Here's a look at some comments about the course on facebook!
Ready to get started? Join now and become our next ECG success story!
ECG Rhythm Master gives you everything you need to MASTER Cardiac Rhythms!
Currently over 39 videos walking through the basics and advanced aspects of cardiac rhythm interpretation.
Course run time:
4 hrs of video lessons
Module #1
The Heart & Electricity
An introduction to the intricate relationship between the heart and electricity.
Anatomy of the Heart | (3:18)
Myocardial Cells & Electricity | (6:17)
Cardiac Conduction System | (2:56)
Nervous System & the Heart | (5:30)
Module #2
Clinical Applications
How to actually obtain an ECG, apply telemetry leads, and introductions to markings and measurements on an ECG rhythm strip.
ECG indications | (9:02)
Markings & Measurements | (3:40)
Module #3
The ECG Tracing
What each wave, complex, and interval means, and their normals and abnormals.
P Wave & PR Interval | (6:52)
QRS Complex | (6:23)
QT Interval | (4:27)
ST Segment | (9:57)
T Wave | (5:01)
U Wave | (3:27)
Module #4
Finding the Rate
How to actually find the rate of an ECG rhythm strip (3 different ways)
How to Find the Rate | (2:31)
Module #5
Sinus Rhythms
Learn all about sinus rhythms (fast or slow), what causes them, abnormalities, and more!
Normal Sinus Rhythm | (3:18)
Sinus Arrhythmia | (3:51)
Sinus Bradycardia | (10:42)
Sinus Tachycardia | (6:51)
Module #6
Ectopy
Learn all about ectopy and premature complexes of the heart.
PACs & PJCs | (6:48)
PVCs | (6:51)
Module #7
Atrial Arrhythmias
Explore atrial arrhythmias, including Atrial Fibrillation (AFIB), Atrial Flutter, and more!
AFIB & Aflutter | (15:39)
AF & Aflutter Examples | (7:53)
Electrical Cardioversion for AF | (8:12)
WAP, MAT, & AT | (10:36)
WAP, MAT, & AT Examples | (11:56)
Module #8
AV Nodal Arrhythmias & Heart Blocks
Explore AV nodal arrhythmias, heart blocks, and their management in this module.
Junctional Rhythms | (10:32)
Heart Blocks | (12:37)
Bundle Branch Blocks | (11:36)
AVNRT (SVT) | (9:07)
AVRT (WPW) | (8:29)
Adenosine | (3:50)
Vagal Maneuvers | (5:40)
Synchronized Cardioversion | (3:41)
Module #9
Ventricular Arrhythmias
In this module, you will explore dangerous ventricular arrhythmias, including VTACH & VFIB, as well as an in-depth cardiac defibrillator tutorial!
Ventricular Escape Rhythm | (5:21)
Ventricular Tachycardia | (12:55)
Torsades de Pointes | (3:05)
Ventricular Fibrillation | (7:27)
Cardiac Defibrillation | (2:50)
Asystole & PEA | (5:35)
Module #10
Paced Rhythms
Explore paced rhythms in this module, covering topics such as Paced Rhythms and Temporary Pacing.
Paced Rhythms | (5:01)
Temporary Pacing | (3:50)
Limited Time Bonuses
These bonuses are included if you enroll now!
🎉 BONUS #1
ECG Rhythm Guide for Nurses
ECG Rhythm Guide for Nurses is a 190+ page PDF which accompanies the video course. It goes over everything that the video courses do, but in text form. This can be a great supplemental addition to the course, and you can even print it out to help!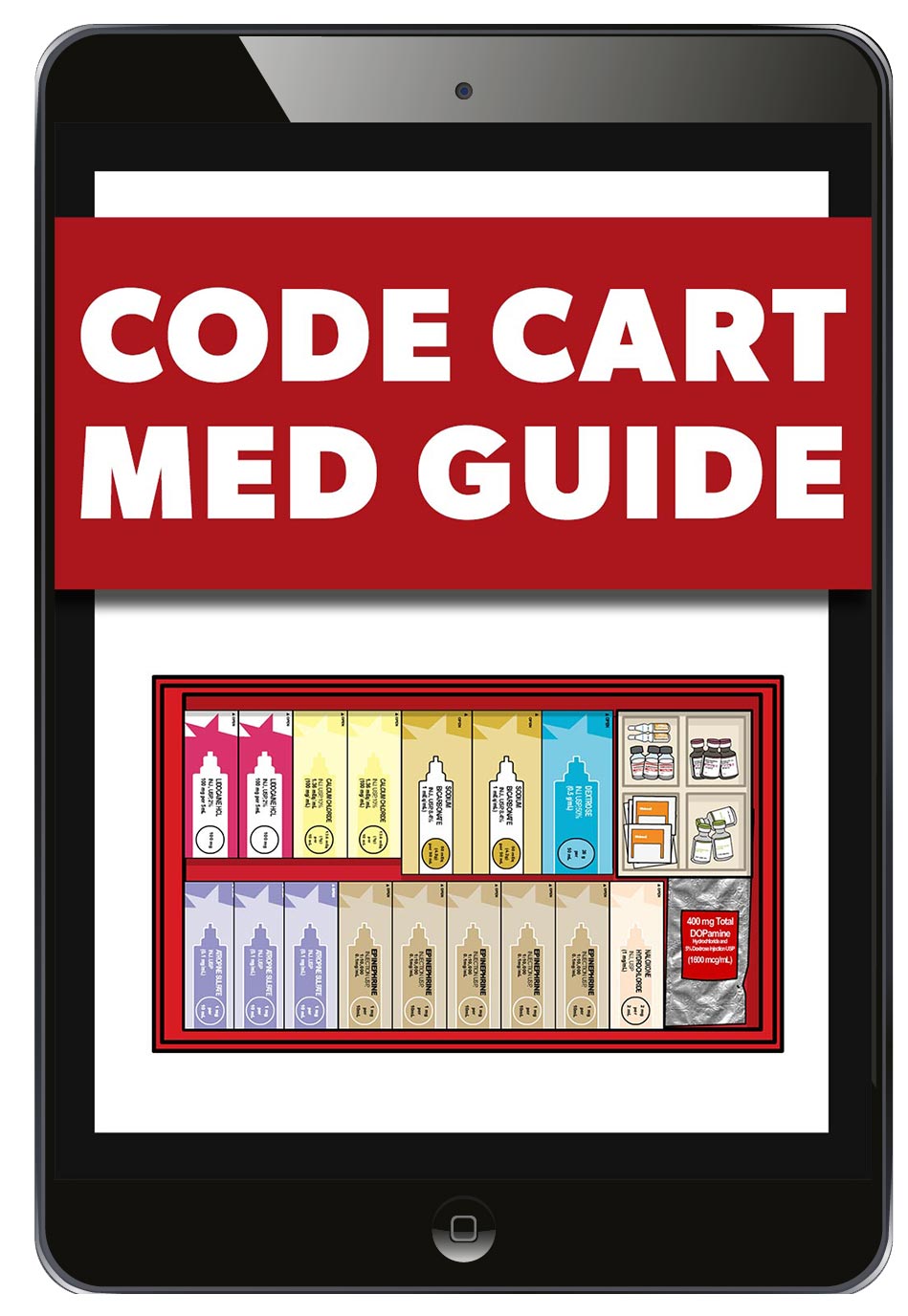 🎉 BONUS #2
Code Cart Medication Guide (PDF)
The Code Cart Medication Guide takes you through each medication found within the code cart, when to use them, how they work, and so much more!
🎉 BONUS #3
Code STEMI (PDF)
This in-depth PDF walks you through how to identify a STEMI on the ECG, the difference between a STEMI and an NSTEMI, and the different types of STEMI (inferior wall, posterior wall, etc).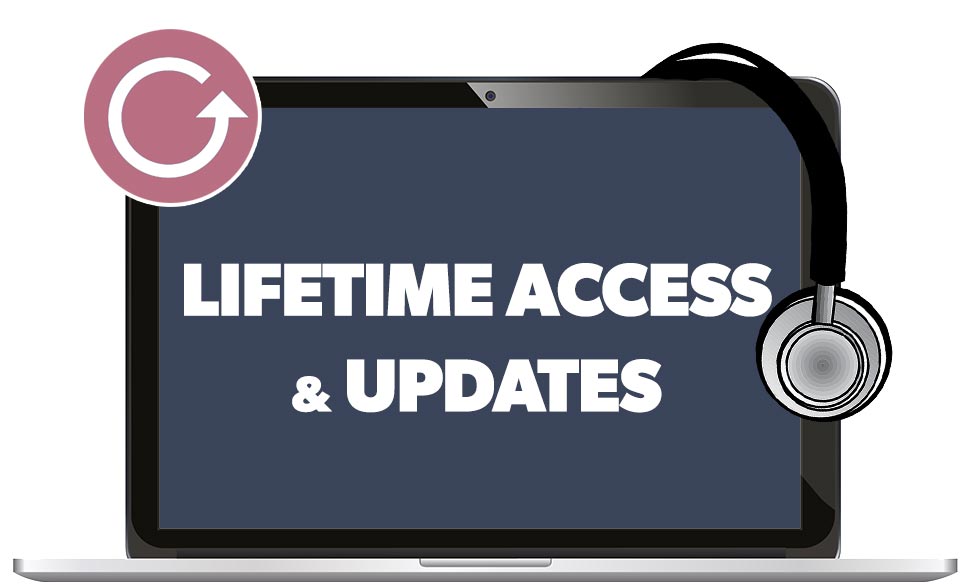 🎉 BONUS #4
Lifetime Access
You'll receive lifetime access to this course, including all its contents, these bonuses, and access to all future course updates!
AND you'll get CE credit too?!
7 Hours of Continued Education Credit!
When you complete the course and pass the post-test, you will be awarded a certificate for 7 hours of CE credit through the ONA, an accredited approver by the ANCC.
Students can use this credit for:
✅ Renewing nursing state license(s)
✅ Renewing nursing certification(s)
Master the ECG Cardiac Rhythm Today
Enroll in the ECG Rhythm Master and become a cardiac rhythm expert
🚨Get the ECG Rhythm Master at 30% off before the time runs out 🚨
Get lifetime access to ECG RHYTHM MASTER
🔓 100% Safe purchase. Your data is protected
Frequently Asked Questions
What format is the content delivered in?
This course is a digital course delivered with video and audio hosted on Teachable. There are even step-by-step tutorials for emergency procedures like transcutaneous pacing or cardiac defibrillation. There are also pre-made notes for each chapter taken from the ECG Rhythm Book for Nurses (provided complimentary with the course). 
Will I need to purchase anything else once I buy the course?
I only recommend a PC or Laptop to watch the course, however nowadays the Teachable platform can also be downloaded on your smartphone or tablet. 
How do I get my Continued Education certificate?
The ECG Rhythm Master has been approved to provide 7.0 contact hours through the ONA, an accredited approver of CE by the ANCC! This means you may even be able to get reimbursement through your hospitals if you have a CE allowance.
Once you complete the course, there is a post-test that need to take and pass with an 80%. Once you do this, you will be automatically emailed your certificate. If you don't meet this score, you can take the test again. 
Do you offer any refunds If I don't like the course?
Absolutely! If you are unhappy with the course, then I would be happy to issue you a full refund. I am confident in the quality of this course, but if you find it lacking then please send me an email or contact me. Refunds must be requested within 30 days (please allow 2-3 business days for processing), and I ask that less than 50% of the course be completed. 
Is this Course Evidence-based?
Of course! I am always sure to make sure all of the articles on my website, as well as all of the courses that I create are evidence-based. It is imperative as health care professionals that we stay up to date and are always updating our practices, utilizing evidence-based medicine.
I utilized UpToDate, educational textbooks, free evidence-based resources online, and online medical information databases during the creation of the course. All of my references are cited in APA at the end of each video and posted in text at the bottom of each PDF lecture.
Is there a time limit to complete the course? How long do I have access?
There is absolutely no time limit – you have lifetime access! Your access to this course doesn't expire, so you will continue to get lifetime access to this content including videos, bonuses, eBooks, and any future updates to the course!
Ok I'm in! How do I get started?
Scroll up, click the big green button, checkout, and you'll get immediate access to the course!