If you find yourself wondering how to become an ENP, you've found the right resource!
In this article, we'll not only talk about HOW to become an ENP (Emergency Nurse Practitioner), but we'll also talk about their job role, and how much money they can expect to make.
If you prefer to watch instead of read, then watch the video below!
What is an ENP?
An Emergency Nurse Practitioner (ENP) is a nurse practitioner who is certified to see patients of all ages in the emergency departments and ambulatory care centers.
An ENP is specialized to see patients in the following clinical settings:
EDs (fast-track & Main ER)
Trauma Centers
Urgent Care Clinics
Retail health Clinics
Jails and Prisons
Mobile units (Flight team, EMS, etc)
What do ENPs do?
At work, an ENP evaluates and treats patients who present to the Emergency Department or urgent care settings.
They may work in fast-track which sees lower-acuity patients (like extremity injuries and coughs/colds), or they may be on the main side seeing chest pains, abdominal pains, headaches, sepsis, strokes, etc.
An ENP will also perform routine ER procedures like:
Incision & Drainage of abscesses
Shoulder & Joint reductions
Administering local anesthesia blocks
Splinting extremity injuries
They will also be trained for critical and life-saving procedures like:
Rapid Sequence Intubation (RSI)
Central line placement
Chest tube insertion (tube thoracostomy)
They will usually be working in conjunction with an attending physician, especially within emergency departments. These physicians will serve as a resource for help, guidance, or if escalation of care is needed.
How much does an ENP make?
As with most nurse practitioner salaries, an ENP can definitely expect to make at least 6 figures.
According to Zip Recruiter, an Emergeny Medicine Nurse Practitioner (ENP) can expect to make 133K on average or $64/hr, whereas a general nurse practitioner is: 110K per year (53$/hr).
The emergency setting is higher risk and tends to be more stressful with higher risk and less desirable hours, so the increased pay makes sense.
But of course, the pay will fluctuate depending on multiple different factors such as location, the specific company you work for, and how much experience you have.
Many ERs and urgent cares will utilize an RVU pay system, so the busier you are, the higher the acuity of the patients, and the more procedures you do – the more your hourly rate will be.
WHAT IS an RVU?
RVU stands for Relative Value Unit. This is a means to measure the productivity of Physicians or NPs/PAs.
The more patients you see, the higher acuity they are, and the more procedures you perform will all increase your RVUs.
Each facility pays out RVUs differently. They might give you your RVUs monthly, quarterly, or added onto your hourly rate.
So now that we know what an ENP is, what an ENP does, and how much money an ENP makes – how does someone actually become an ENP?
1

BECOME AN RN

So as with any NP specialty, the first step is to become a registered nurse.

This deserves its own article itself (coming next week), and there are a few different methods you can do, but I'm going to briefly overview the main recommended way.

Long story short, you're going to need to attend a program that grants you a BSN or a Bachelor of Science in Nursing.

After graduation, you will take the board certification exam called the NCLEX-RN.

Once you pass the NCLEX-RN, you can apply for your state licensure in your specific state, and get a job working as an RN.
2

ER RN EXPERIENCE

So once you get your RN, you can start working as a nurse.

If your goal is to be an ENP, you should prioritize working as an ER Nurse.

This will be huge in developing your assessment skills, getting comfortable with what kind of patients present to the ER and with what symptoms, as well as familiarize yourself with treatments and medications.

It also will give you a chance to change your mind before actually knowing that an ENP certification is what you want.

The amount of time you need to work as an RN before going back is debated to say the least. Some nurses immediately go into their NP program, but this isn't the norm and is more for FNP.

When it comes to ENP programs, all ENP programs are going to require you to have at least 1 year of work experience as an ER RN. 

While working as an ER nurse, you'll have between 4-8 patients at a time(closer to 4 if you're lucky like I was). You will learn SO MUCH as an ER nurse that will benefit you as a future ENP.

The next step is where we have some options because there are 4 different ways to become an ENP once you are an RN and working as a nurse.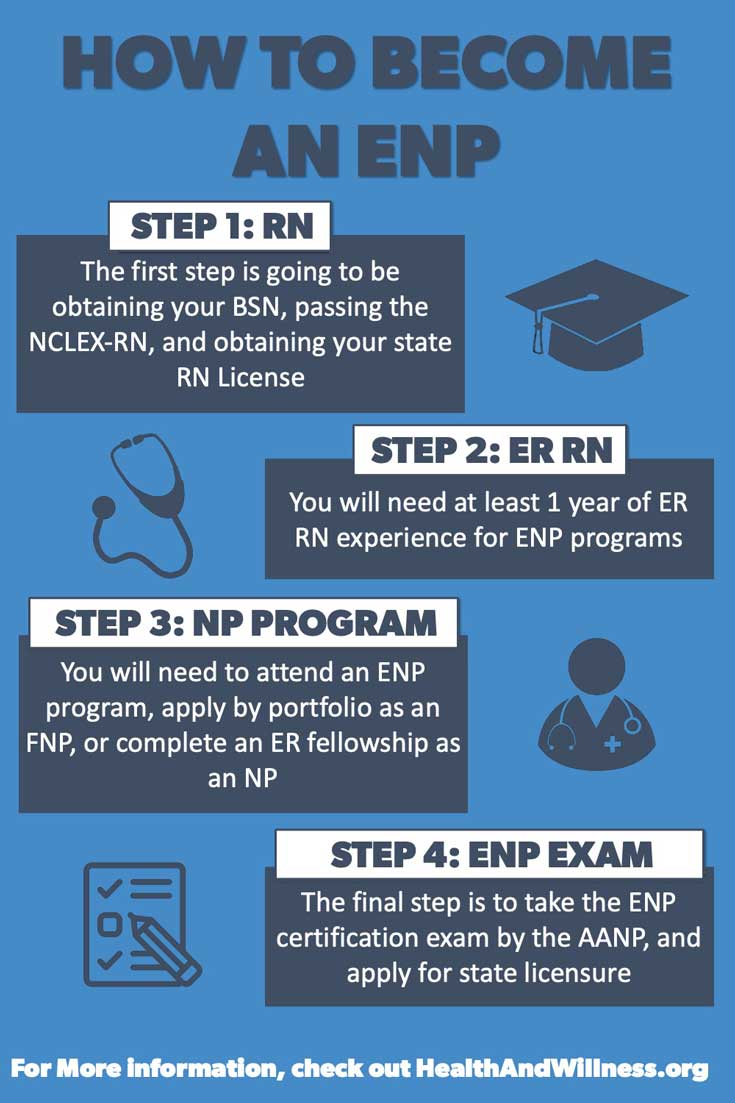 3

BECOME ELIGIBLE FOR ENP EXAM

This step is where we have some flexibility in becoming an ENP. We have the option of attending a specific ENP program or post-masters certification, applying by portfolio as an FNP, or by completing an ER fellowship.
a. ATTEND AN ENP PROGRAM
The ENP certification just officially came out in 2017, so it is still relatively new, and only offered by the AANP.
This means that there aren't many ENP programs out there, but there are at least 10 as of now.
Some top ENP schools are Emory University and Vanderbilt.
When you attend an ENP program, the content is specific to emergency medicine.
Almost all of your clinical rotations will be in the ER and urgent care settings (aside from FNP curriculum), so you will get great training specific to your area of focus.
All of the ENP programs that I've seen are actually dual FNP-ENP, so you will be obtaining your FNP as well.
This means the program may be a bit more expensive and longer than a single specialty program, and require more clinical hours. I am not aware of any stand-alone programs, other than post-masters certificates.
ENP programs will take you on average 3 years to complete, with 600-1000+ hours of clinical in both emergency medicine settings, as well as family practice, women's health, and pediatrics.
Many nurses will continue to work on a per-diem or part-time basis at the bedside as an RN, which from personal experience, really does help you put into practice what you're learning, in addition to your formal clinical hours.
b. POST-MASTERS ENP CERTIFICATION
A family nurse practitioner (FNP) can go back and obtain a post-masters certificate from an ENP program, where they complete only the ENP portion fo the curriculum. This takes about a year to complete. 
c. APPLY BY PORTFOLIO
If you don't attend an ER program you can choose to apply by portfolio. This is for those who are already practicing as an FNP.
A Family Nurse practitioner can apply by portfolio to become an ENP if they meet the following requirements within the last 5 years:
Over 2,000 hours in an ER setting
Over 100 hours of continuing education hours in emergency medicine, with over 30 being related to emergency procedures
d. ER FELLOWSHIP
Additionally, an FNP can complete an ER fellowship or residency, which then makes them eligible to sit for the ENP certification exam.
These fellowships typically take 1-2 years to complete, and you will be paid less during the training, but gain great training within the ER.
4

Take the ENP Exam

The last step of becoming an ENP is to take the ENP certification exam once you are eligible to do so.

The ENP certification exam is currently only provided by AANP, and consists of 150 multiple choice questions, 135 of which are scored.

The exam will consist of questions related to medical screening, medical decision making and differential, patient management, patient disposition, and professional, legal, and ethical practices.

Once you pass this test, you are certified as an ENP and can apply for your specific state's nurse practitioner license, and get a job working in the ER setting as an ENP.

And that's how you become an ENP, as well as what you will be doing, where you will be working, and what pay you can expect to make as an ENP.
REFERENCES
ENP Pay:
Example of ENP Program:
Other: