How to Become a Registered Nurse (RN)
How to become an Registered Nurse (RN) is frequently asked and it is a great career to go into! It can be a lot of hard work but it is worth it in the end. I personally was an RN for 4 years and currently I work with them daily as an ER Nurse Practitioner – so I think I can give some insight into becoming an RN.
There are multiple different pathways to become an RN, but I'm going to outline the most common way, as well as the less common pathways.
If you prefer to watch instead of read, check out the video below!
What is a Registered Nurse?
A Registered nurse is a nurse who has been trained to take care of patients in and out of the hospital.
They provide hands-on care to their patients, carrying out orders and advocating for their patients.
Within the hospital, an RNs job includes:
Patient assessment
Medication and Treatment administration
Communication with Providers and other nurses
Patient Education and Discharges
HOW TO BECOME A REGISTERED NURSE
When deciding on how to become a Registered Nurse, one of the first things you will need to figure out is which type of program you want to attend.
There are programs that offer various different degrees and various different lengths.
There is no "one size fits all", and that will become apparent when researching how to become a Registered Nurse.
STEP 1: GRADUATE HIGH SCHOOL
In order to gain entry into any RN program, you will need your high-school degree or its equivalent (GED).
This is pretty standard for many professions, and most people already inherently understanding this step.
RN programs want to know that you are academically capable in a classroom setting.
However, there are specific pre-requisites and application requirements or recommendations that nursing schools are going to want to see on your transcripts from high school.
NURSING PROGRAM PRE-REQUISITES
Nursing programs want to see certain classes that you have taken in high school in order to be considered for their program.
These pre-requisites classes include:
Basic and Advanced Math
Science courses (Biology, Chemistry, and Physics are all great ones)
English
Not every program is going to require every single one of these, as many can be flexible.
Each program will vary, but check out some programs that you are interested online, and look for their "admission" page, which may give some insight into specific recommendations for high school students.
Many programs require a minimum GPA as well as a certain SAT score – this will depend on the university and program.
The better your GPA and SAT scores, the more competitive your application will be.
BOOST YOUR APPLICATION
In order to be a serious candidate, focus on doing your best in high school and obtaining the best GPA you can.
Additionally, programs like to see that your involved involvement in extra-curricular activities.
Some of these extra-curricular activities include:
Sports & Cheer
Music & Theater
Student Council
Journalism
Various other Clubs
Taking Advanced Placement (AP) science classes will make you stand out.
These look great to many nursing programs and can potentially offer you university credit, which can make your nursing program a little more manageable.
An additional application boost is real-life work experience in a related field.
Working as a CNA, EMT, Medical scribe, or personal caregiver are all great options that look great to nursing programs!
STEP 2: CHOOSE A NURSING PROGRAM
ASSOCIATES DEGREE OF NURSING (ADN)
Nurses can become a registered nurse sooner by obtaining an associate's degree instead of a bachelor's degree.
An ADN aims to give students the basic technical and academic knowledge to go into employment.
For nurses, this includes core science classes, as well as your basic "how to be a nurse" classes.
This also includes approximately 700 hours of clinicals within the hospital – learning how to be a bedside nurse.
Typical classes for ADN include:
Basic Nursing Fundamentals and Skills
Anatomy and Physiology
Nutrition
Emergency Care
Pediatric Nursing
Obstetric Nursing
Med-Surg Nursing.
Most ADN degrees will take about 2 years to finish.
This is about HALF of how long a BSN takes. This lets the nurses enter the workforce sooner.
If they still desire a BSN or if their facility requires it, an RN-to-BSN bridge program can be taken, usually all online, which can be completed in an additional 1-2 years of education.
Obtaining your BSN this way gives you bedside experience quicker, and helps you make money sooner.
If you want to go into administration or advance your nursing education, obtaining a BSN is required.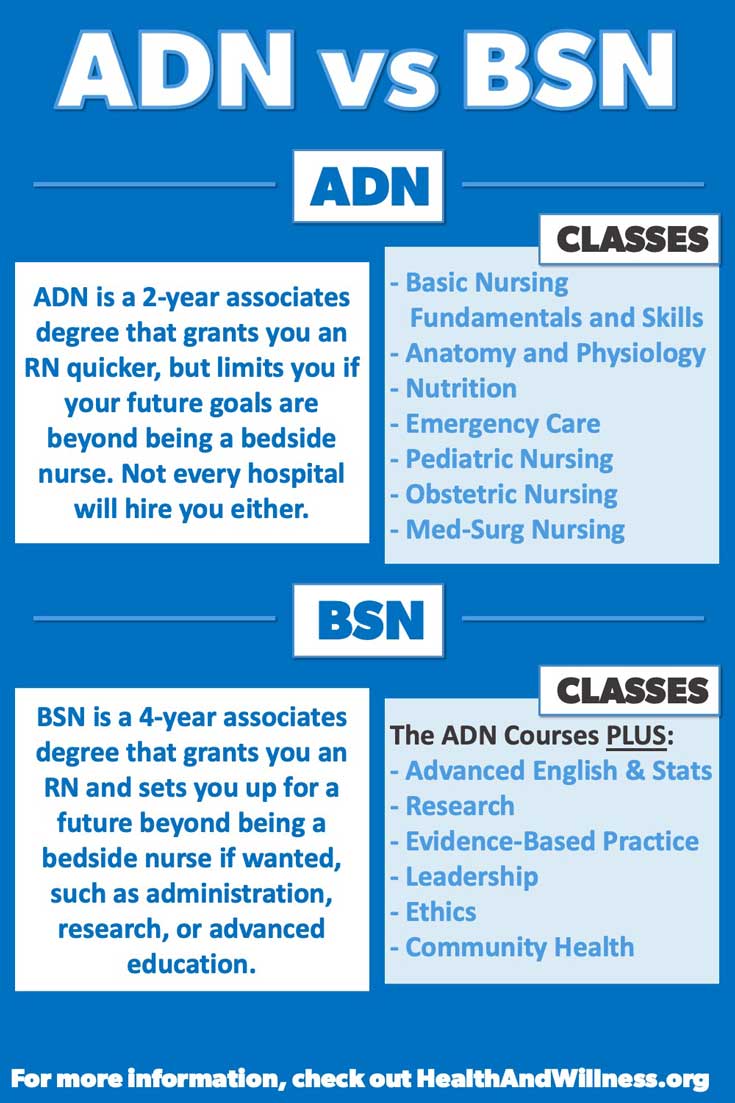 BACHELOR OF SCIENCE IN NURSING (BSN)
Obtaining your Bachelor of Science in Nursing (BSN) is recommended and often needed to do anything "beyond" bedside nursing.
This traditional 4-year degree is what many future nurses choose to attend straight out of high school.
This gives them the "traditional college experience", but also offers them an excellent nursing education.
Students will learn how to assess their patients, how to assess their patients, and how best to help manage their care.
This involves every aspect of patient care including:
Personal care
Medication administration
Communication with physicians or ancillary staff
Delegation
and more!
Additionally, they are required to attend clinical as well. Clinicals are learning opportunities within the clinical setting, where student nurses can shadow and assist registered nurses in accomplishing their nursing tasks.
The intent is to obtain first-hand experience and directly learn how to be a nurse. By graduation, most programs require somewhere between 800-1000 hours of clinical.
The "BSN" education for nurses involves all of the classes that the ADN programs offer, in addition to:
English
Statistics
Research
Evidence-based practice
Leadership
Ethics
Community Health
Obtaining your BSN is definitely a great option and will set you up for future endeavors and professional advancement.
ADN vs BSN?
So what's the actual difference then between an ADN-prepared and a BSN-prepared RN?
Well even though you complete your program quicker and can start working sooner as an ADN, you are less-educated.
Many facilities require BSN education, and some will hire you but offer you money to help you pay for the BSN portion, contractually requiring you to complete it.
Many magnet hospitals will prefer to hire BSN-prepared nurses.
Some facilities will pay their RNs the same regardless, but many offer incentives for advanced education as well as certifications. So you might make a few more dollars per hour as a BSN vs ADN.
Additionally, you can earn a higher hourly rate by obtaining specialty certifications like Certified Emergency Nurse (CEN) or Critical Care Registered Nurse (CCRN), if that is the specialty that you work in.
Overall, there is a large push for BSN-prepared nurses, and there is some evidence to back this up, with improved patient outcomes correlated with increased nursing education.
DIPLOMA RN
I'm not going to elaborate much on this as it is largely being phased out, but Diploma RN programs once used to be a very common way of obtaining your nursing education.
These programs were often run by hospitals that offered a lot of hands-on education and "learn-on-the-job" experiences.
This has largely been replaced with degree-offering programs from universities and colleges.
3. APPLY & MATRICULATE
Once you have all the required prerequisites listed above and know which program(s) you want to attend, you can start applying to programs!
The difficulty in the admittance is going to depend on your application as well as how competitive the RN program is.
Some nursing programs are very difficult to get into!
If unable to immediately get it, some students choose to attend the university of choice as an "undeclared" major, take important classes within the RN curriculum, and then hope to be accepted into the program as a transfer once they've proven to do well.
4. Graduate and Pass the NCLEX-RN
Once you finish your RN program, you have to take a competency exam to prove your knowledge as a Registered Nurse.
This test is called the NCLEX-RN, and you will spend a large portion of your education preparing for this test.
Each state board of nursing uses this test as the basis for whether or not you deserve your RN license within their state.
Once you pass (and hopefully in 75 questions), you will have been deemed "worthy" of the RN title after your name, once your state license has gone through.
Once you apply for state licensure by exam, you can apply for state licensure by endorsement for other states.
Or better yet, if your state is part of a compact RN license state, then your license is good for all of those states!
STEP 5: WORK AS A NURSE
Once you're licensed, you can get a job as a registered nurse and finally start using that knowledge you've obtained to positively impact your patient's lives as well as your bank account!
Finding a nursing job can sometimes be tough, but if you're willing to be flexible – there are so many nursing opportunities out there!
ALTERNATIVE METHODS TO BECOMING AN RN
I wanted to talk a little bit about some alternative options when trying to decide how to become a registered nurse.
As always, one size does not fit all and some of these other options may be the perfect fit for you!
1. Accelerated "Direct-Entry" Programs
If you already hold a Bachelor's degree in another program (i.e. business, math education, Biology), there are programs designed to accelerate your education into becoming an RN.
This is partly due to many of the prerequisites being completed (Gen eds), but also as the programs are intensive and designed for students who just want to "catch up" and become nurses ASAP.
These programs often have science pre-requisites, are very involved, require maximum effort, rarely take "breaks", and can be completed in as little as 16 months!
At graduation, each participant is awarded a BSN.
2. LPN to RN programs
If you are already a Licensed Practical Nurse (LPN), attending an LPN-to-RN bridge program is an excellent choice to become an RN.
There are programs that award an ADN, as well as programs that award a BSN.
As above, choose which option is best for you.
LPN-to-ADN programs will be able to be completed quicker in 1-2 years, and LPN-to-BSN programs in 2-4 years.
3. Foreign Educated to RN in US
If you obtained your RN education from an accredited RN program in a different country, you can apply for state licensure within the US.
This will require:
At least 2 years of RN experience
A Foreign-Educated Nurse refresher course
English proficiency tests
For more information, check out this article.
So there you have it. If you are wondering how to become a registered nurse, hopefully, this article gave you some insight.
How did you become an RN, and would you recommend anything different? Let us know in the comments below!