This post contains affiliate links, which means I get a commission if you decide to purchase through my links, at no cost to you. Please read affiliate disclosure for more information
Learning how to stay organized as a nurse can be challenging, especially as a new nurse! 
Use these 7 Nursing Tips on how to stay organized to help keep you organized and efficient!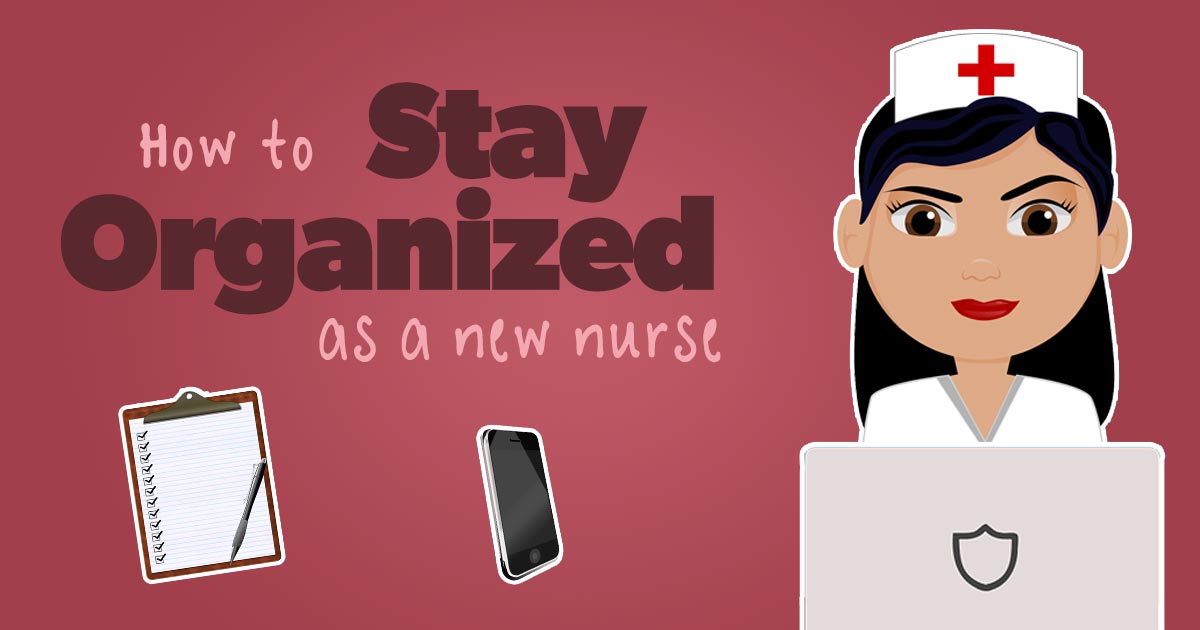 How to Stay Organized as a Nurse
The learning curve as a new nurse is super high, and we could all use some tips on staying organized.
There is so much to remember when it comes to all of our patients, and we are expected to know all of their information and often have to recall it in high-pressure situations.
Organization as a nurse takes time and experience, but if you are diligent – you can become that organized nurse that you've always wanted to be!
1. Get There Early
On my first day as a nurse, I arrived at 6:50 am bright and early to my new Med-Surg unit – excited to make a good impression.
I walked over to my preceptor and she looked at me and said "you're late. I'm already getting report. You're expected to be here at 6:30 tomorrow".
I had NO idea that I needed to get there so early? But why?
One major tip on how to stay organized as a nurse is to adequately prepare and "read up" on your patients. This takes time, which may mean needing to get there early.
This is especially important on Med-Surg units when you will be caring for multiple patients at once.
Most facilities will have some type of print-out with the patient's medical information on it including their attending physician, allergies, diagnoses, and their medications.
Using these sheets, look through their medical record for information like:
Why they're admitted and what they're being admitted for (Look in the H&Ps)
Their vital sign trends
Their IV access (gauge and location)
Their active orders (diet, activity, code status, etc)
Any other information you deem to be important
If your facility doesn't have these printouts, or if you prefer to use your own – bring your own!
I always made my own that I would use. You can sign up for my free patient organization sheets here.
Now when you get nursing report from the previous shift, you will have some baseline information to go off of.
Make sure to have space to write down important information that the previous shift's nurse gives you.
I would say as a new nurse it is important to get there about 30 minutes early to start writing up on your patients. However, as you gain skills and become more proficient, 5-15 minutes early will likely suffice.
Also, understand that you are not getting paid for this time. Being so – it is not mandatory, but it will help your shift go more smoothly.
Quick note: What worked well for me was briefly reading up on my patients, looking at their vital sign trends, and their main admission diagnoses.

I would get report, assess each patient and pass meds, and then when I got time later on I would read more deeply into the H&Ps, writing down important information to pass along to the next shift.
2. Learn To Prioritize
Learning to prioritize is essential in figuring out how to stay organized as a nurse.
As nurses, we have so many tasks that we need to accomplish, and figuring out which order to do them is can mean the difference between life. That seems extreme, but sometimes can be true!
First, prioritize which patients you should see first.
A patient that has more unstable vital signs or more serious diagnoses should be bumped to the top of your list.
You should probably see the patient with CHF on Lasix and oxygen before you are seeing the patient with a broken hip who was recently medicated and is comfortable.
See those who are "more sick" before those who are "less sick".
This is because those who have more serious diagnoses are more likely to decompensate.
Seeing them quicker can mean faster intervention and prevention of poor outcomes.
Also make sure you are prioritizing your tasks.
Sure – everyone needs to be charted on and their care plans completed, but making sure medications are administered in a timely manner is likely more important.
In the hospital – unexpected situations are inevitably going to occur.
Maybe you need to take a quick pause on your charting to go give pain medication to a patient who is requesting it.
Assessing a patient who is hypotensive takes precedence over giving your other patient their bedtime pills.
Learning to prioritize and being flexible will help you learn how to stay organized as a nurse, especially within the hospital.
3. Make Lists
In order to prioritize tasks, you actually need to know which tasks need to be performed.
As an experienced nurse – this can become second nature. However, as a new nurse – you are prone to forgetting or missing something.
Since it is so new, you need to write it down to make sure you do everything correctly.
I would always have checkboxes on each of my sheets for each patient. These checkmarks would include:
Assess
Chart
Medicate (with times ordered i.e. 9pm | 12am | 5am)
Care Plan
Rhythm Strip Interpretation
As a new nurse, you will inevitably be task-oriented. This is unavoidable and ensures that all of your tasks get done.
Once you gain experience, you will improve your critical thinking skills, and completing your tasks will become second nature.
4. Real-Time Chart
I know I said to prioritize medication passes and urgent assessments over charting – and that holds true!
But something that made me an efficient nurse is real-time charting!
Essentially this means right after I saw my patient and assessed them, I would park my computer-on-wheels right outside their door and quickly chart my assessment.
This only takes about 5 minutes while the assessment fresh your mind.
As a new nurse, you will forget to assess certain things that are important to assess! If you real-time chart, you can easily just walk back in and complete your assessment.
This does not take as much time as you think. If you have 6 patients, that's only about a total of 30 minutes of charting.
Anecdotal Note: I would start assessing and charting my patients after getting report around 7:30, and move onto the next patient.

Once 8pm hit, I could medicate my patients for their night-time med pass. I would assess, medicate, and then chart.

Finally, I would double back on the initial patients to medicate them. This means all my patients would be assessed, medicated, and charted on by 10pm.

This leaves the rest of the night for any admissions, to hourly round on your patients, answer call bells, and perform the other tasks needed like care plans and reading up in their H&Ps.
Related Article: Top 6 Charting Tips for Newbie Nurses
5. Investigate Before Notifying
Another aspect of how to stay organized as a nurse is doing proper investigation before notifying a Provider.
This improves the communication and ensures the patient gets what they need. It can also help avoid a negative interaction with a Provider – which we all know can put a damper on the shift.
Learning to organize your thoughts and relay your concerns to the Provider is not inherently easy. The added pressure doesn't help!
Make sure to investigate any anticipated questions they may ask. Some examples include:
If you are calling about high blood pressure, make sure you write down the BP trends, what they are taking for blood pressure, and if anything had needed to be given for high BP before.
If you are calling for additional pain medications, make sure you have an adequate assessment of the pain (new or chronic, location, radiation, etc), what they are currently getting for pain, any PRNs or previous medications given for pain, etc.
Make sure to include any recommendations you may have. Make sure to use a proper SBAR format.
"SBAR" always left me a bit confused and wanting more, so I made up an "IMSBAR" format which you can read all about here!
Related Articles:
6. Stock Up
Learning how to stay organized as a nurse also means always being prepared for whatever can happen. This means having the right equipment at the ready!
Important hospital equipment to stash in your pockets include:
10mL saline flushes
Alcohol wipes
Medical Tape
4×4 gauze
Important equipment that you should be bringing to work and have on you include:
It may be a good idea to also carry with you a bottle or two of lotion or barrier cream, so you're not always needing to run to the clean utility room.
Having all this equipment will save you time and make you more efficient and keep you organized.
Related Article: 
7. Know When You're Actually Working
Knowing when you're working is an important aspect of how to stay organized as a nurse.
I would be lying if I said I never got a call saying "where are you – you're on the schedule for today".
I use Nurse Grid to keep track of my schedule. This app is specifically for nurses. What I love is that you can see your colleague's schedules as well and even request a shift-switch within the app itself.
It's simple and yet functional. Whatever app or calendar you use – make sure you always know when you're working!
Related Articles:
Hopefully, you found some of these tips helpful when searching how to stay organized as a nurse! Are there any other tips that have helped you? What other areas do you struggle with?
Let us know in the comments below!