So you're just about to graduate from your Nurse Practitioner program (or already have), and you are ecstatic! But where do you go from here? The NP Credentialing Process can be a bit overwhelming.  After I graduated, all I wanted was an easy-to-follow tutorial to streamline the process. While the specifics may vary from state to state, the general steps are the same. Follow these steps to quickly and efficiently be one step closer to obtaining your license and practicing as a Nurse Practitioner.
1

.

NP Credentialing Process: Apply for Certification

The road to becoming a Nurse Practitioner is a long one! If you're anything like me, you've probably been too focused on your studies to research what exact steps to take after graduation. In order to apply for your state licensure, you must first prove your competence at taking a certification examination either through the American Academy of Nurse Practitioners (AANP), or through the American Nurses Credentialing Center (ANCC).

AANP offers exams for the Family Nurse Practitioner (FNP), the Adult-Gerontology Primary Care Nurse Practitioner (A-GNP), and the Emergency Nurse Practitioner (ENP).

ANCC offers exams for the Family and the Adult-Gerontology Primary as well, but also offers exams for Adult-Gero Acute NP, Pediatric NP (PNP), and Psychiatric-Mental Health NP (PMHNP).

You must create an account and apply for a certification exam within your respective specialty. The unfortunate cost of certifying with these agencies is quite high. The AANP will cost $315 for an initial certification, or $240 ($75 discount) if you are an AANP member. For the ANCC, non-members will pay $395, but discounts are available for AANP members ($340), AANP Student members ($290), and ANA members ($270).

You will need access to your previous class schedules and information, as the initial application for certification requires that you enter information about the classes you have taken. You will also need to list the names and addresses of your clinical sites, as well as the contact information of your previous preceptors.
2

.

Send Verification Information

The next step in the NP credentialing process is verification. Whether you apply through the AANP or the ANCC, you will have to verify that you are a student just about to graduate – or that you have already graduated. To do this, you MUST send an official transcript indicating that you have graduated from an accredited Nurse Practitioner program to the certifying bodies (AANP or ANCC). You can do this through your universities online portal. Many universities offer fast email delivery, usually for a small fee.

If you haven't graduated yet, or if you finished school but the conferral date of your degree has not yet passed – you may still apply. You will need to send an official transcript of your work-to-date. This will allow you to sit for the exam, but you will need to resend ANOTHER official transcript AFTER your conferral date to prove that you successfully graduated.

Send your correspondence to the following:

ANCC Email: [email protected]
ANCC Mail: ANCC PO Box 8785, Silver Spring, MD 20907-8785

AANP Email: [email protected]
AANP Transcripts Email: [email protected]
AANP Mail: AANPCB, P.O. Box 12926, Austin, TX 78711

You will get weekly emails from your certifying agency updating you on your required documents. The average processing time is 3-6 weeks. For ANCC, processing time can be shortened to 5 business days using the Expedited Review Procedure but will cost an additional $200.
3

.

Take the Exam

After everything has been received and processed, and if you have been deemed eligible, the AANP or ANCC will send an Authorization/Eligibility to Test email. In this email, it will give you instructions on signing up for an examination date and location.

You will take the exam at a testing center – similar to the one you may have taken your NCLEX-RN at. You MUST bring 2 forms of ID, one of which must be photo ID, and the other can be a debit/credit card with a signature on the back. Make sure you arrive at least 30 minutes early.

The AANP examination has 150 questions and you will have 180 minutes to take it.
The ANCC examination has 200 questions and you will have 240 minutes to take it.

Immediately after submitting your answers, you will have to take a quick survey. After the survey, you will exit the room and the testing proctors will give you printed information. On this information will have your preliminary results – and hopefully will say "you passed!".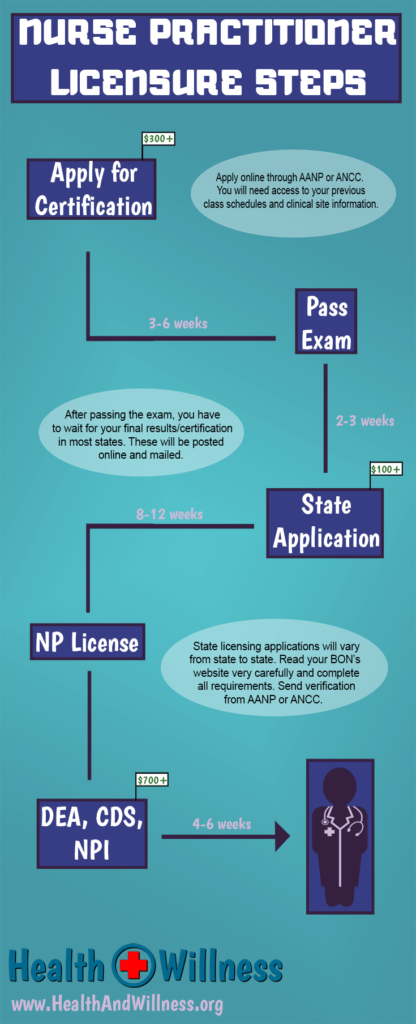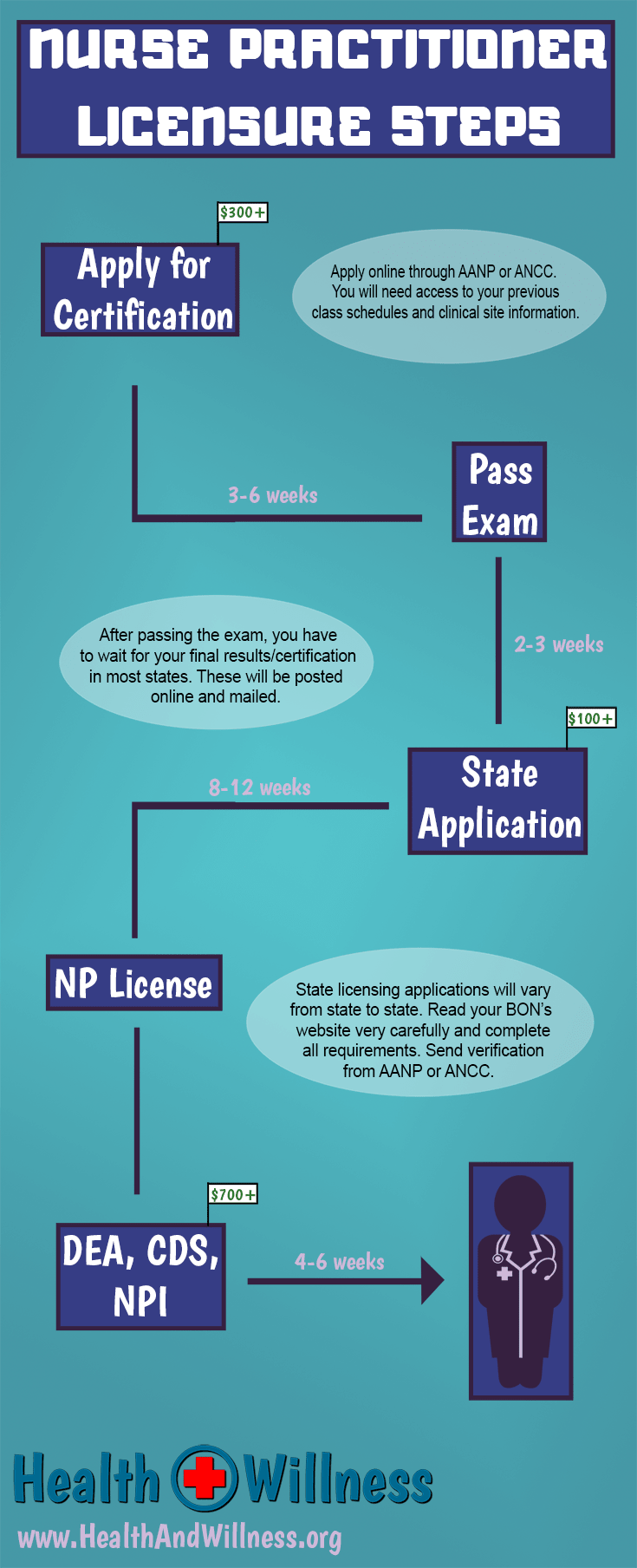 4

.

Wait for Official Certification

After taking the exam, you will have to wait for your official results. These will come in the mail, but will also update on the certification websites, so be on the lookout. This process typically takes 2-3 weeks. Once you get your official certification, you can begin your state BON application for License as a Nurse Practitioner.
5

.

Apply for Licensure with the State BON

This step in the Nurse Practitioner Credentialing Process is the most variable from state to state. Google "_______ BON nurse practitioner license", and you will likely find your state's BON section on their website. It may have the application in pdf form for you to download, or you may have to email a secure email and request an initial certification application.

Once you have the PDF, fill it out with Adobe Reader (or whatever application that works for you), or print it off and fill it out by hand. Ensure that every section is filled out correctly – as it may delay your licensure if done incorrectly.

Requirements vary from state to state, but generally, you will need:
*Passport-Style Photo
*Filled out Application
*Copy of Birth Certificate or US Passport (Proof of citizenship)
*Fingerprints or Release to Collect previous fingerprints (Background Checks)
* Check for fingerprint release (~$20)
*Application Fee (~$100)

You also MUST send verification of your passing the certification exam. You can do this through the AANP or ANCC websites by clicking "verify". Verification to your state BON is FREE.

There may be other various requirements for each state. Pharmacology requirements differ per state, but if you had at least 1 Pharmacology class that should suffice in most instances. If you didn't have a specific Pharmacology class but it was within other coursework, you must have a specific integrative pharmacology form filled out. If it has been greater than 5 years since you took your Pharm course, you may have to take CEUs toward Pharmacology and submit verification. Some states, such as New Jersey, require everyone to take a certain amount of CEUs towards prescribing controlled substances (6 credits for NJ). Again, read the specific instructions on the application, and follow them exactly. This will ensure quick processing and no delays.

Your State BON may or may not require you to sign the application in front of a Notary official. If this is the case – there will be a Notary Affidavit within the application. Take the application to the courthouse, the UPS store, or another agency and get it notarized before submitting it.

If your state BON allows an online application to be submitted – fill that out as it usually offers quicker processing times. However, if your state does not have an online application or if you prefer to print it out and send it, collect everything needed and send it in a secure envelope. I prefer to send my important documents to the BON through the UPS store, but any service which offers quick delivery, tracking, and safe delivery will suffice.
6

.

Wait for State Licensure

This step is invariably the longest step in the NP credentialing process. Depending on the efficiency of your state's BON, this can take a long time. General wait-time is said to be 8-12 weeks for most state BONs. However, you have to be proactive in some situations. If your state offers online verification, check online to see that your application is pending. If it has been 8 weeks, call and get an update on the status of your application.

However long it may take, once you receive your state licensure, you can apply for your DEA, NPI, and in many states your secondary controlled substance license.
7

.

Apply for your DEA License

Apply for your DEA license here. This will cost $731, and processing time can take 4-6 weeks. Once on the website, under Form 224, click "Mid Level Provider", and then "Begin". Fill out all required information and pay with debit or credit card of your choice. While this is expensive, it covers you for 3 years within your state and you may be able to get your future employer to reimburse you for it.
8

.

Apply for your Secondary Controlled Substance License

Many states, such as New Jersey, require a secondary Controlled substance license. Often called Controlled Dangerous Substance (CDS) or Controlled Substance Registration or License, this is required by just less than half of the individual states.

You may need to wait for your DEA license to be completed before applying for this. Your state BON should also have this information on their website, but you can google "_________ BON CDS application", and Google will not lead you wrong. The cost is usually low (~$20), and the processing time is generally 2-4 weeks.
9

.

Apply for your NPI

The NPI, or National Provider Identifier, is a 10-digit number which identifies you to Medicare and Medicaid Services. To apply, you must fill out an application online here. Create an account, sign in, and then click "Apply for an NPI for myself". Fill out the information correctly, and click submit.

In general, as long as the online application is filled out correctly, you will receive your NPI number within 10 days, and your application is FREE. You can actually apply for your NPI as a nurse, and once you obtain your NP license you can update it.

And THOSE are the general hoops you have to jump through throughout the NP credentialing process before officially becoming able to practice to the full extent of your education as a new Nurse Practitioner! Things may vary state-to-state, so be sure to read your state's BON website very thoroughly.

Some jobs may let you start working sooner, getting accustomed to the work environment, the electronic medical record, and the facilities themselves – you just will not be able to see patients independently until you at least get your state licensure.

Did I forget anything? Comment below if this was helpful or if you'd like another step-by-step instructional.