NP vs MD – Which Path to Choose?
Working as a Nurse Practitioner (NP), I frequently am asked: "What exactly is the difference between an NP and a doctor?". While there definitely are differences between them, both function similarly in within many specialties, so it is not always an easy question to answer.
The education and training of physicians is very different than that of an NP. Additionally, their job role and the autonomy/scope of practice with which they practice will vary depending on the state and facility of practice.
If you're trying to decide which path you want to take, or maybe you are a patient who's wondering which Provider you should be seeing – this article should help clear up any confusion.
Comparing the Education and Training
To compare NPs with physicians, we must first look at the differences in their education and training.
Physician Education and Training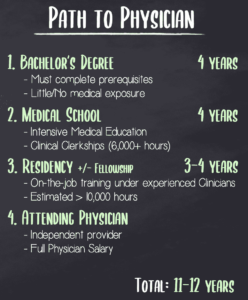 The path to becoming a physician is a long and difficult. First, they must obtain their undergraduate bachelor's degree – usually in a science such as chemistry or biology. However, the actual degree does not usually matter, so long as they complete the pre-requisites for Medical school. This can be ensured by enrolling in a Pre-med track. During this part of their education, they are not learning any specific medical information. While the science courses that they take will invariably help them in medical school, they are not gaining exposure to the medical field directly. However, most students will be required to obtain a decent amount of shadowing or "real-world" experience with healthcare exposure – whether working as a patient care assistant, EMT, medical scribe, etc. 
Upon graduation, they attend medical school which is typically a 4-year degree. They learn in-depth medical sciences as well as clinical information for practice. During the final 1-2 years, they also complete clinical clerkships in just about every specialty there is. This provides well-rounded medical knowledge, and the depth of knowledge obtained is unmatched. By graduation, they have performed an estimated 6,000 hours of clinical experience, directly learning how to be Providers. Upon graduation, they receive their MD or DO degrees, and are officially "Doctors". But their training doesn't stop there.
After graduating from medical school, a physician will then match into a residency – which is on-the-job training for a set amount of years depending on their specialty. This usually is 3-4 years but can be as long as 7+ years with some specialties (i.e. Neurosurgery), and physicians can choose to perform a fellowship year that offers an additional year of specialized training. In general, residencies will provide an averaging of at least 10,000 hours of training. During this time, resident physicians are working in close collaboration with other senior residents as well as attending physicians. They have to take certain board certifications along the way, but once they complete their residency – they are officially attending physicians. This means that they are officially independent providers and can practice without any oversight.
Nurse Practitioner Education and Training
The path of a Nurse Practitioner looks very different from that of a physician. Nurses dive right into learning clinical information and medical treatment in their undergraduate nursing education, where they obtain a Bachelor of Science (BSN) in Nursing. During nursing school, they complete a set number of clinical hours within the hospital learning how to be bedside nurses. This will depend on the program, but most will complete around 800 -1000 hours of clinical.
Once they graduate and pass their board certification (the NCLEX-RN), they begin immediately working as a bedside Registered Nurse (RN). If they make the decision to obtain their NP degree, most will choose to begin after an estimated 5-15 years of bedside nursing experience – however for most programs, there really is no minimum years of experience required for matriculation. The NP program will be population-specific. This means that instead of rotating through each specialty – they will obtain 600-800+ clinical hours in their specific specialty under an experienced NP or physician. Most will complete their master's degree in 2-3 years, and many are able to work at least part-time while doing so. Some choose to get their Doctorate of Nursing Practice (DNP), which instead takes about 4 years to complete. Once they graduate, there is no required residency program. While some residencies are available, this is by far not the norm. Once they pass their board certification (via ANCC or AANP), they can immediately begin practicing as an NP. In most states, they will be working in close collaboration with experienced NPs and physicians, at least until they get more experience as a practicing NP. 
Side by Side
Both routes are difficult – but I won't deny that the physician route is more rigorous and definitely offers more hours of education, training, and supervision. However, I won't completely disregard the benefits that the NP route can have.
Firstly, there's earlier exposure to healthcare and medical conditions through education and clinicals during their undergraduate nursing degree. Pre-med students usually have little if any healthcare exposure. Additionally, NPs usually have years of bedside nursing experience. As previously stated – this should not be equated with formal education, but shouldn't be ignored either. This experience exposes them to medical conditions and management, improves their assessment skills, and helps improve their communication not only with their patients but also with their medical colleagues. Those of us working in the hospital system can see firsthand just how smart and capable good bedside nurses can be.
When directly looking at them side-by-side, please keep in mind that these are all general estimations as each program, specialty, and specific situation is going to impact the amount of formal education and training.

Looking at these numbers, it is clear that our formal education and training is less than that of a physician. However, I do believe our education is sufficient for us to provide great care to our patients. While an NP is not equivalent to a physician, we have proven ourselves to be knowledgeable and capable Providers in various specialties.
Comparing the Actual Job Role
The actual job role of NPs and physician will vary greatly depending on state and facility. However, usually the specific job duties are very similar.
Both physician and NPs: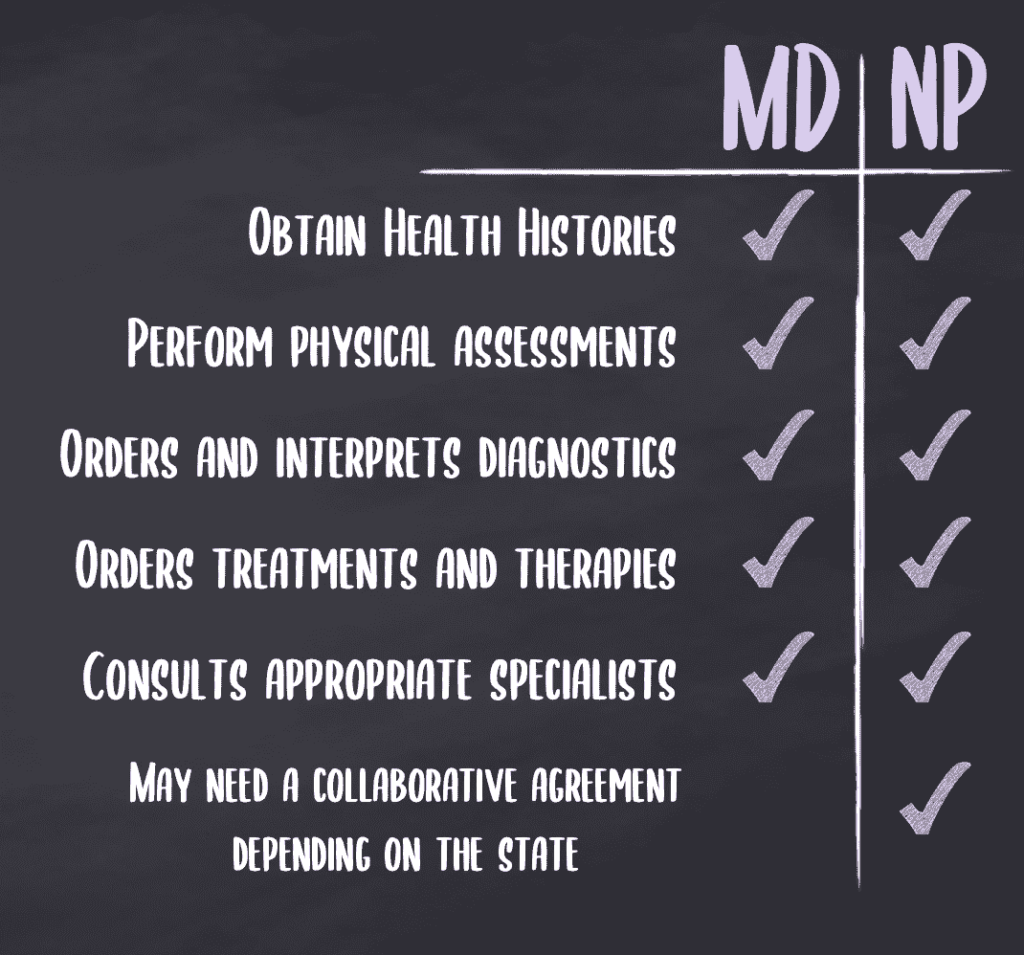 Obtain health histories from patients
Perform a physical assessment
Order diagnostic tests and interpret them
Order treatments such as medications and therapies
Consult appropriate specialists
In some locations and settings, you will have a difficult time telling the difference based on their job role. This is especially true in primary care or outpatient offices. In many settings and locations, NPs work in close collaboration with physicians. This means they usually work with them and consult them if they have any questions. This is especially true for new NPs, as even in states with full practice authority, new NPs still have so much to learn.
21 states offer full practice authority for NPs. While I do support full practice authority, I also recognize the need for close collaboration with other NPs and physicians, especially as new providers. The health and wellbeing of our patients are more important than anyone's egos.
Overall, either path is commendable and offers excellent education and training, but the differences in each cannot be ignored. Physicians clearly have extensive education and training, starting out very broad and narrowing down to their specific patient population within residency. They are continuously learning under other knowledgeable physicians and have a rigorous and long-standing educational format. This is no easy path.
 NPs first get great bedside nursing experience – connecting with patients and being exposed to medical conditions and treatment plans. Then they choose a specialty and focus on their specific patient population. So no, they may not be able to tell you in-depth information about virology or the cytokine p450 system. However, they are educated and trained to treat their specific patient population appropriately. Any research studies comparing and contrasting NPs and physicians show that NPs have not been found to provide inferior care.
The best thing for all of us to work together, swallow our egos, work within our scope and capabilities, and provide top-notch care to all our patients.