Nurse practitioner specialties will dictate which patient population you can treat once you are a practicing nurse practitioner.
There are many different nurse practitioner specialties that you can obtain, and we will outline the differences between them here!
If you prefer video content instead, you can check out my youtube video below!
Why are Nurse Practitioner Specialties Important?
Nurse practitioners are registered nurses (RNs) who attend additional schooling and training to become an advanced practice registered nurse or APRN.
APRN is the umbrella term for various advanced practice nurses, which includes:
Nurse Practitioners
Certified Registered Nurse Anesthetists
Certified Nurse-Midwives
Clinical Nurse Specialists
We are going to be outlining the different nurse practitioner specialties that an NP must choose before entering their advanced nurse practitioner program.
When a nurse wants to become a nurse practitioner, they have to attend an advanced nursing program that grants them either a Master's of Science in Nursing (MSN), or a Doctorate of Nursing Practice (DNP).
These programs are specific to various patient populations – so basically what demographic of patients you will be treating. These are known as nurse practitioner specialties.
It is important to pick the right nurse practitioner specialty before actually going through a program, because this may limit your job opportunities depending on what you want to do in the future, so knowing the difference between these specialties is important.
For example, if you complete an acute care program, you will not be able to sit for a family nurse practitioner certification.
The main nurse practitioner specialties include:
Family Nurse Practitioner or FNP
Adult-Geriatric Primary Care Nurse Practitioner or AGPCNP
Adult-Geriatric Acute Care Nurse Practitioner AGACNP or ACNP for short
Emergency Nurse Practitioner
Women's Health Nurse Practitioner (WHNP)
Psychiatric and Mental Health Nurse Practitioner (PMHNP)
Pediatric Nurse practitioner or PNP
Neonatal Nurse Practitioner (NNP)
I want to briefly discuss the differences between these, and some general guidance when choosing a specialty.
Nurse practitioner programs will all have similar base classes such as advanced pharmacology and advanced pathophysiology, but each specific program will branch into classes that are specific to each specialty and patient population.
NURSE PRACTITIONER SPECIALTIES
Family Nurse Practitioner
Family Nurse Practitioner or FNP is the most common Nurse Practitioner specialty, accounting for about half of all NPs – and there's good reasons for that, because FNPs are the most versatile NP certification that there is.
FNP programs focus on family medicine, spanning from birth to death, ages 0-100+. FNP programs focus on primary care, but specialty clinicals can be completed in the ER, hospitals, and various outpatient specialties depending on the NP program.
Due to the lack of age requirements and general primary care training, FNPs are able to work in many different settings.
While most FNPs will work in outpatient primary care offices, many work outside of primary care like:
Specialty Offices (cardiology, orthopedics, etc)
Emergency dept and Urgent Cares
Inpatient (non-critical care areas)
The benefit of an FNP working in the ER is that they are certified to see patients of all ages. Many ERs have combined pediatric and adult emergency departments, and providers are often expected to see both.
Some states and facilities will hire FNPs to work inpatient in non-critical care areas. This will be state and facility-dependent.
The downside is that while your FNP program will give you the base knowledge you need for these various specialties, most of the hands-on clinical experience will be in primary care, and this can leave you somewhat unprepared for certain specialties such as the ER.
This can lead to a big learning curve outside of primary care areas, and it makes it especially important to get a job with a thorough orientation process and great ongoing support by your supervising and collaborating physicians as well as the nursing staff.
I personally am an FNP and I have worked as an inpatient hospitalist, as well as within the ER.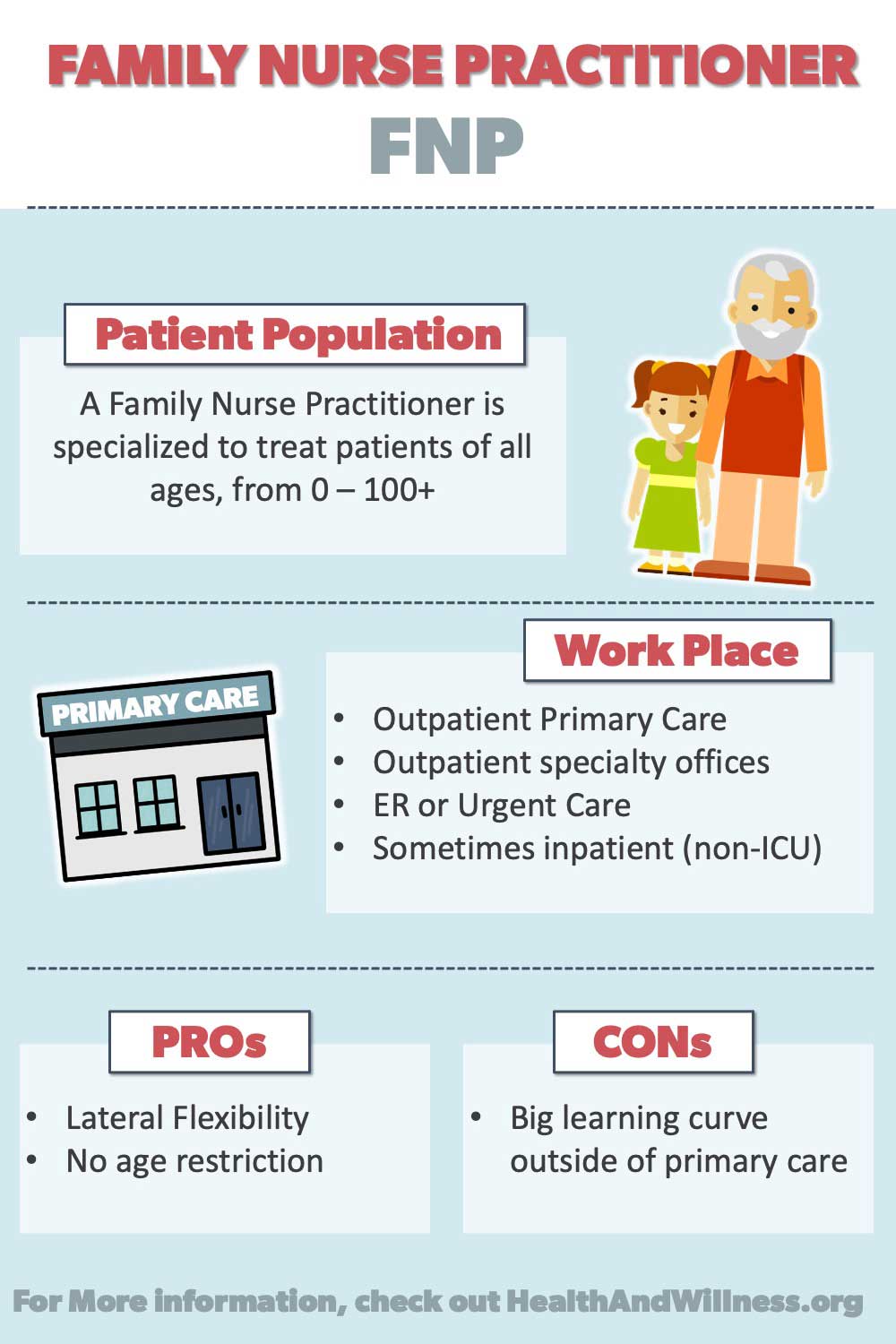 Adult-Gerontology Primary Care Nurse Practitioner
Adult-Gerontology Primary Care Nurse Practitioners or AG-PCNP is similar to FNP, but they are limited to evaluating and treating patients who are over the age of 13.
AGPCNPs often work in:
Adult internal medicine offices (outpatient primary care)
Outpatient specialty offices (cardiology, nephrology, etc)
ER and Urgent cares *but needs to be adult-only which can lead to difficulty finding a job*
Adult-Gerontology Acute Care Nurse Practitioner
Adult-Gerontology Acute Care Nurse Practitioners or AG-ACNP (or just ACNP) are those who are specialized to treat adults and geriatric patients within acute and critical care areas. This means primarily within the hospital, both ICU and general floor admissions. They are also limited to seeing patients 13 years or older.
AGACNPs can work in:
Inpatient hospitalist positions
Inpatient ICU
Outpatient specialty offices (Cardiology, nephrology, etc)
Nursing Homes and LTAC facilities
Specialty clinics often have on-call and rounding privileges within the hospital, which an ACNP is specifically trained for so this can be a great option for them.
ACNPs can also work in the ER, but will be limited to patients 13 years or older, and this can significantly limit the ability to get a job in this setting. However, the their training in the acute care setting will likely benefit them in seeing emergent patients within the ER.
Some programs offer dual FNP-ACNP certifications, which is the most ideal and the most flexible nurse practitioner specialty certification. However, it will require additional schooling and clinical hours, because you are doing the work for and paying for 2 separate certifications. You will also have to test for both.
Emergency Nurse Practitioner
A newer certification is the Emergency Nurse Practitioner or ENP. There are a few ENP programs now throughout the US, and they allow an NP to specialize in emergency medicine. These NPs will be certified to see patients of all ages within emergency and ambulatory departments (i.e. urgent cares, retail clinics, etc).
The education and training will be specific to ER and ER procedures. So while you'll get great training, you will be significantly limited on where else you can work other than ER or urgent care facilities.
An FNP with a minimum of 2000 hours of work experience that meets certain requirements is able to apply by portfolio to become an ENP and then has to sit for the ENP certification exam (read the requirements here).
Otherwise, they have to attend an ENP program, or they can complete a fellowship program in emergency medicine.
Women's Health Nurse Practitioner
Women's Health Nurse Practitioner is a certification that focuses on women's primary care needs including:
Well-woman exams
Reproductive health
Breast and cancer screenings
Vaginal and urinary complaints
and more
Depending on the program, this may be offered in conjunction with a family or adult-geriatric certification as well.
Again, this offers great training specific to women's health needs. However, it will limit you to this patient population unless you obtain a dual-certificate in something else, or later choose to get a post-masters certification.
But if women's health is 100% where you want to work forever, then it is a great choice and will give you great experience and training.
This certification exam is not offered by the AANP or ANCC, but rather another organization called the NCC (National Certification Corporation).
Psychiatric Mental Health Nurse Practitioner
Psychiatric Mental health Nurse Practitioner or PMHNP is gaining definitely gaining popularity.
The PMHNP certifies nurse practitioners to treat patients with psychiatric and mental health disorders across the lifespan. This includes treating conditions such as:
ADHD
Anxiety & Depression
Bipolar disorder
Schizophrenia
and more
Again, this specialty is very specific, and you will not be able to work outside the realm of psychiatric mental health. However, you can work inpatient psych, outpatient psych, or even telehealth which is definitely gaining popularity as well.
Pediatric Nurse Practitioner
Pediatric Nurse Practitioner or PNP certifies a nruse practitioner to see patients from birth to 21 years old. Training and education will be specific to the pediatric population, but you won't be able to leave that patient population without additional education.
Neonatal Nurse Practitioner
Neonatal Nurse Practitioner or NNP, works with neonates, infants, and toddlers up to the age of 2. Neonates include those who were born prematurely.
And those are the main NP specialties that you will run into. As you can see, sometimes it is straightforward, and other times it can be a little more difficult to choose between programs.
Which NP Specialty Should you Choose?
FNP offers the most flexibility with different specialties and populations but may leave you with a big learning curve if you start working in a non-primary care setting.
This is a good choice if you're not really sure where you want to work, or if you think you may want to work in multiple different settings in the future. This is also an excellent choice if you want to work in primary care.
AG-PCNP is great if you want to work with only adults in primary care or outpatient specialty offices.
AG-ACNP is a great choice if you love inpatient medicine and want to work within the hospital or long-term care facility, and sometimes outpatient specialty offices.
The other specialties are a bit more straightforward and will give you great education and training and leave you feeling well prepared.
If you want ER or urgent care – do an ENP program.
If you want to work in Women's health – do a WHNP program.
If you want to work in Psych – do a PMHNP program.
If you want to work with kids – do a PNP program.
If you want to work with neonates – do an NNP program.
However, keep in mind that many of those specialties except for neonatal will also hire FNPs or AG-NPs depending on the states and facilities. Don't forget though that jobs that require you to see kids won't hire an AGNP.
While they used to hire FNPs for some psych work, the PMHNP is becoming the standard for psych jobs. Of note though, treating basic anxiety and depression is within the scope of a primary care NP.
All of these different nurse practitioner specialties have similar lengths, costs, and clinical requirements. They will just differ in some of the material that is taught, and the clinical experiences that are offered to their students.
And that is a complete overview of the main nurse practitioner specialties that you can obtain.
Leave a comment down below to let us know what you think about nurse practitioner specialties and which one you think is best!