Nursing is an amazing and fulfilling career path full of opportunity and education. Nurses are the front-lines – they are the first to know something is wrong, the first to advocate for their patient, and the last person in the room.
Nurses should be proud
of the work they do and the lives they save. However, sometimes a Nurse desires to advance their education and become a physician – and there is
nothing
wrong with that.
Many nurses and doctors recommend just becoming a Nurse Practitioner – as this is "basically the same thing", "easier", and will get them toward becoming a practicing clinician much sooner. Honestly – these are good points. However, there are many reasons why being a Nurse Practitioner might not be enough for you.
The path to becoming a Nurse Practitioner (NP) is difficult, as is the path to becoming a physician. While performing similar functions within healthcare – especially in certain practice settings – their respective education is very different with different points of emphasis. Sometimes a nurse might desire more knowledge. As an NP – there are definitely times in my career where I wish I had the knowledge and training that physicians experience. Additionally, pay and opportunities are invariably better for physicians (although work-life balance may suffer). Lastly – while most people respect NPs, unfortunately some do not and there is definitely a higher level of respect towards physicians.
Occasionally someone will choose to become a Nurse Practitioner and then later on decide they actually want to be a doctor. This is okay too!
Long-story short – whether or not you choose to advance your education by becoming an NP, a physician, or an NP and THEN a physician – you need to choose what's right for you and what fits best into your life and your goals.
But is there a fast-track method for nurses or NPs or nurses to become physicians? I mean – we already have plenty of experience on various medical conditions and treatments. We have first-hand clinical know-how – and our bedside manner tends to be pretty awesome too.
Unfortunately – there is no easy fast-track method for anyone to become a physician. Medical school is a competitive rigorous endeavor. However – if its something you want bad enough – there is no limit on the work that you will do and the success you will have if you put your all into it.
How to Get Into Medical School: Nurse Edition
As an already practicing RN or NP – you will be considered a "nontraditional" applicant to medical schools. Many of the students they accept are fresh graduates of a baccalaureate degree. They will have majored in a science, pre-med track, or have ensured that they took all the pre-requisites. They will have prepared for the MCAT as well.
And then there's you. Someone who is smart, intelligent, with good base knowledge and first-hand experience. So what path must you take to make becoming a physician a reality? Unfortunately it will be similar to other non-traditional students (no shortcuts).
The Pre-requisite Courses
99% of medical schools require pre-requisites – at least at first glance. Medical school is very competitive, and most schools have stringent admission criteria. Unfortunately, nurses won't have taken all or even most of the course requirements to be considered for medical school.
BSN students will have taken science pre-requisites – but at most universities these are not the same courses required by medical school. While you may have taken chemistry courses – these were likely geared towards health professionals. Depending on the medical school and your undergraduate courses – these may or may not count towards the pre-requisite requirements.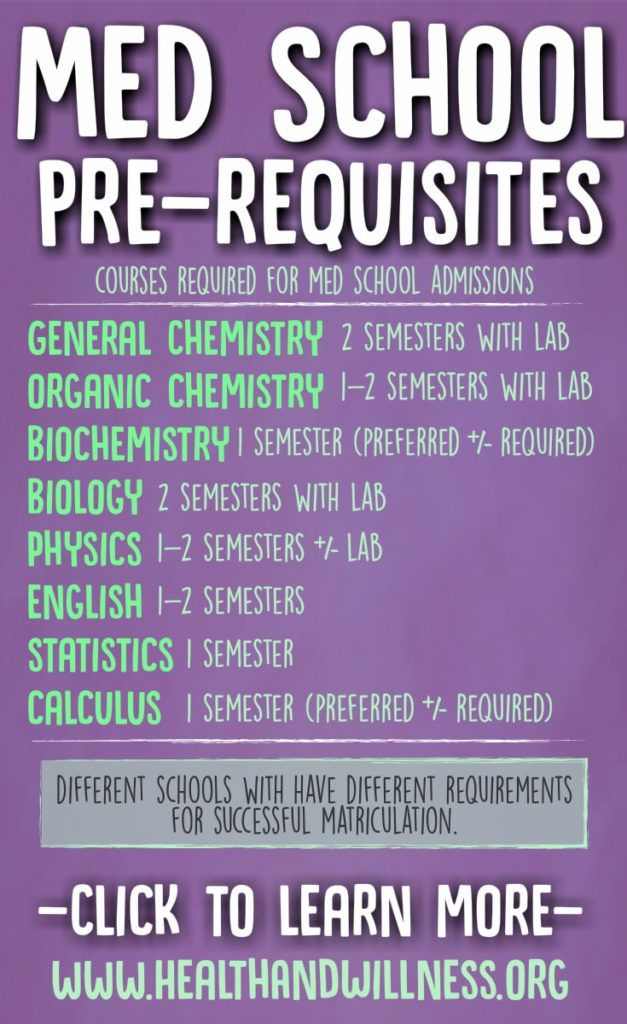 The general Med school pre-requisites are below:
2 semesters of general chemistry with lab
1-2 semesters of organic chemistry with lab
1 semester biochemistry (required by some, preferred by most)
2 semesters of biology with lab
1-2 semesters of physics with or without lab
1-2 semesters of English
1 semester of Statistics with or without calculus
As a nurse, it is likely that you'll have the biology courses completed from your undergraduate education, as well as the English and possibly Statistics. Otherwise, this leaves about 6 courses or 20+ credits that you'll need to take before you even are able to apply. This may take a year or two depending on how you can make it work with your Full-Time work schedule – or you can work part-time if that is an option for you.
There are a few ways around taking pre-requisites – but these are very rare. A school in NYC Mount Sinai waives pre-requisites for a small amount of students, but these students have to have majored in a humanities – aka not nursing.
The best way to see if you have any alternative options are to email the schools admission team and await a reply. However, more than likely they will say that they have strict admission criteria and there is no alternative route – even if you're a working nurse.
There are post-baccalaureate programs which generally last 1-2 years, helping you complete your pre-reqs and possibly even having linkage programs with medical schools. This means you would have a better chance of admission into medical school. Additionally, they usually offer a letter of recommendation. Admission criteria to these programs are variable and they may require you to retake various classes (i.e. biologies).
Pre-requisites are important to take regardless, because they help prepare you for the MCAT – which is another strict requirement for U.S. Medical schools.
The MCAT
The MCAT – or Medical College Admission Test – has been used since the 20th century in testing student's problem solving, critical thinking, and understanding and application of scientific concepts related to medicine. Most medical schools are very strict about the MCAT being taken – and scores play a very big factor in your successful matriculation.
The MCAT was reformatted in 2015 and now incorporates many sections – but a strong science background will definitely help you do well. Don't think just because you're a practicing nurse you'll automatically do well on the MCAT. While questions are often related to medicine, they require deep understanding of principles of chemistry, physics, and biology. They also test your critical analysis, reading, and reasoning skills, and recently incorporated Psychology and social functions of behavior.
The average MCAT score is 500. The highest score possible is 528, however any score above a 523 is considered the 100th percentile (this is very difficult to achieve). Depending on which schools you apply to – they will have different MCAT "averages", but it is not the only important aspect of an application. However, if you do not meet the minimum MCAT requirement, certain schools may automate you out of their selection process.
Admissions
Medical schools are very competitive. In fact, about 60% of applicants get rejected to medical school completely – and that's after applying to an average of 16 schools (Ref). If you're limited on which schools you can apply to – this rejection percentage will likely be much higher!
Obviously specific schools will have different acceptance rates. Harvard's school of medicine, for example, had an admission rate of 2.4% for the class of 2022, whereas Mercer University SOM has an average admission rate of 53%.
Long-story short – it definitely will depend on which schools and how may that you apply to. Applying to "easier" schools will definitely increase your odds.
Financial Aid
Even if you get accepted – how the heck are you going to pay for medical school?! The average cost of a 4-year public medical school is over $128,000, while private is over $208,000 (Ref). That's a lot of cash – much more than you'll be making as a nurse.
Medical school is intense as well – and you'll likely only be able to continue working occasionally – if at all. You may want to devote most of your free time to studying – especially in the first couple years, and the latter will be saturated with clerkships – you may be burnt out!
Like any other student – you'll likely need to take advantage of student loans. The annual federal loan limit for Medical School from the federal government is $40,500. As long as you're not crazy rich – this money is pretty much guaranteed. This will cover most public schools tuition and fees, but may not leave you with much extra spending money or money for living expenses. You may need to look into private loan options to supplement your finances – which will likely be more difficult to get approved.
However, don't lose all hope! Many schools offer grants and scholarships. The key is to have a stellar application. They are more likely to offer great scholarships to those applicants with very high MCAT scores and GPAs to bolster their class profile.
Nursing Advantage?
As a nurse – there are some advantages to medical school. You will already have a clinical understanding of various disease processes as well as expected symptoms and general treatments. However, the first 2 years of medical school are very science-focused – and many RN-to-Physicians report difficulty within the first few months adjusting.
It will take a lot of time and hard work – just like for all medical students. Once you reach clinical clerkships – you may find it easier adjusting due to your previous experience. A better understanding of healthcare infrastructure and your experience as a nurse will definitely help you be a more well-rounded physician in the future.
Do you have dreams of becoming a physician? Leave a comment below!