Top 6 Charting Tips for Newbie Nurses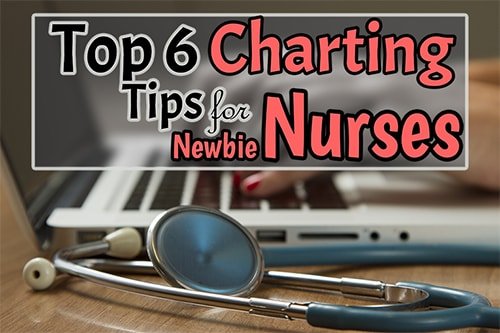 The joys of nursing: making a difference, decent pay, and… charting!? Adjusting to the new role as a medical professional is exciting, but unfortunately, there is SO much to learn that nursing school unfortunately just can't teach you.
One obstacle that new nurses face is learning how to chart quickly and effectively. Learning a new computer system, especially when you've never even professionally charted, can be daunting.
Learning time-management and charting skills are difficult enough, let alone actually taking care of the patients! Use these Top 6 Charting Tips for Newbie Nurses to help you transition into the nursing role and help you chart like a pro!
1

.

Have a System

A critical factor in organization and time-management as a nurse is to have a system for whatever you do. If you go through a literal checklist, you are less likely to miss something, especially as a new nurse!

It can be difficult to chart an entire patient encounter and not miss details, and going through your personal system that you've created can help you minimize charting errors. Remember this charting tip throughout the rest of the tips below – developing your personal system is critical in your time-management as a nurse.

Knowing where you write things down, where you chart things, and in what order will help you stay organized in a chaotic environment.

Your system should be flexible as patients and hospitals can be unpredictable. With time, you will be able to adjust your system to be less task-oriented and more holistic.
2

.

Write it Down

Something that almost EVERY organized nurse does is write down their patient information in some form or another.

You are probably somewhat familiar with this as you likely wrote down every piece of information you could in clinicals. But now you're in the big leagues – you are responsible for your patient and the information you write down is important.

Seeing multiple patients with similar scenarios, it is easy to forget specific information or mix up information between two similar patients. What you write down will be your brain.

When a physician or other medical professional asks you a question about your patient – the last thing you want is to NOT know! Even if it takes you 10 seconds to find on your paper – this is better than saying "I don't know", and physicians and other healthcare staff will respect that.

Many different electronic medical records (EMRs), especially within the hospital, will have printable "patient care sheets" which can provide you with information in the medical record such as the patient's demographics, medical history, ordered medications, and recent labs.

This can be VERY helpful – but you must have a system in place. Find a specific place to write down the information that isn't pre-populated.

Where is their IV and what gauge? What is their history of present illness, aka what brought them into the hospital? Find specific places to write this information down on the sheet, and this will help you stay organized and be able to draw accurate information quickly and efficiently for accurate patient charting.

Quickly write down your patient assessments, as well as any new information the patient presents. I also recommend writing down vital signs on your sheets as well to be able to monitor and trend them accordingly. Sometimes when just reading them on the screen, you can miss important information.

Learn your medical abbreviations. If there's not one – make it up! As long as YOU understand what you are writing – it serves its purpose. This will save you time AND wrist-pain.

If you'd like, I have free patient care organization sheets which you can print and copy to write down patient information and stay organized. You can sign up with your email for free here.

One last note – write down your times; the time you assessed them, the time you emptied their urinal, the time you assisted them to the bathroom, you get the point.

I can't even count how much time I wasted trying to estimate what time I performed some sort of patient care because I didn't write it down.
3

.

RTC

This is probably my BIGGEST recommendation – learn to chart it in real-time.

This is one of the key skills I've learned which tremendously helped my first year on a telemetry floor, and subsequently my time in the emergency department.

This is easier if you have a portable computer on wheels, as many units will. By real-time, I don't mean while the patient is talking. Focus on the patient and give them your undivided attention and assessment skills.

Chart directly AFTER your patient encounter, exit the room (or stay in), and set aside 5 minutes or so to chart everything that occurred right outside the room.

This accomplishes a few things:
Everything is FRESH in your mind, and your charting will be more accurate.
If you realize you forgot to ask or assess something and realize it while you are charting, you can just walk right into the room and ask/assess the missing information. This happens much more than you expect!
As a new nurse learning a new charting system, you may not be able to finish the entire chart within 5 minutes. If not, I recommend still setting aside about 5 minutes directly after seeing the patient to chart.
Start with your patient assessment, as this is what will be the most difficult to remember specifics later on (you're going to be doing 5+ assessments).
If you do not get to your patient care plans, patient education, tasks, or another facility-specific charting, that is okay! You can chart this information when you have some downtime later. Just keep a checklist and know what else needs to be charted to come back to later. You will get quicker with time!
4

.

Nancy Drew it

Once you get to know the electronic medical record, you can really start to use it to streamline your patient care and investigation skills.

One way you can utilize the system is to find information that you didn't write down (like you should have). One common way I "Nancy Drew'd It" was when I forgot to write down times I performed patient care.

You can go back into the system and cross-check your times. By this I mean, look to see something already charted in the system that you can relate back to when you performed the task.

Did you administer the patient's medications 10 minutes after your assessment? Look into the EMAR and see what time the medication was administered (already charted in the system), and subtract 10 minutes. Easy enough right?

Learning the EMR and being able to navigate it quickly and efficiently will help you gather appropriate patient information. Learn to look back at old labs (I'm talking 6-12 months ago.. What exactly is their baseline creatinine?), at old medication lists, at imported data from primary care offices, pharmacy information, and at History & Physicals from previous admissions.

Your specific charting software will limit or expand your ability to do this, but all EMR software will have ways of gathering information which you will learn to navigate with time.
5

.

Work Smart!

As a nurse, you work hard enough! When you are able, try working smart!

If your EMR allows, duplicate a previous assessment and adjust what needs to be changed based on your assessment. Whether it is your assessment or another nurse's, it really doesn't matter – just make sure that the charting reflects your actual assessment.

This mainly just saves you mouse clicks – but also your valuable time.

Providers have shortcuts with charting as well. When dictating or typing their H&Ps, they often utilize "macros" or templates that list out a normal Review of Systems and Physical Exam. They change what needs to be changed and it allows them to chart relatively quickly.

Unfortunately, nurses tend to have to chart in a less convenient way, which usually involves multiple clicks, checkboxes, and forms. This is convenient for coding and billing, as well as for insurance companies for data mining purposes, but it is NOT convenient for the nurses.

When the EMR allows, it will save you a good amount of time by duplicating an assessment. Some EMRs will have offer better functionality in this aspect, and others will not allow it at all. It will also depend on the facility and its policies regarding charting duplication.
6

.

CYA

Nurses are the backbone of the healthcare industry. Unfortunately, the responsibility of our patient's health ultimately can trickle down to the RN taking care of them, and this can be stressful.

A nurse can find themselves in legal trouble if a medical error occurs and he or she did not catch it (or worse – caused it).

Due to the unfortunate trend in patients suing hospitals and staff, it is vitally important to cover yourself with your charting. Chart EVERYTHING that you can.

Always document each notification you made to the Provider, and the conversations you have with the patient/family. Use direct quotes when possible, even if what was said might not be rated PG…

When in doubt, inform your charge nurse or director of anything that you don't feel comfortable with – and CHART it! By initiating the chain of command, you did your duty as the nurse.
---
Hopefully, with these charting tips, you'll be a little less stressed about charting and able to focus more on what truly matters – patient care!
Drop a comment below if you have any other charting tips that will come in handy for new and experienced nurses alike! As always, let me know of any other blog suggestions you'd like written about!